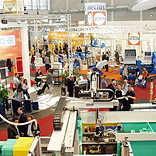 Trade shows and exhibitions are the most promising platforms for conducting business. Visitors come here to explore the latest in the business world and therefore, it becomes important for the exhibitor to provide them with a rich experience that would be mutually beneficial for both of them.
These trade shows and exhibitions provide ample business opportunities by providing exposure to large number of visitors, national and international and sometimes pave way for landmark business deals.
It is an important promotional tool which if used at its best, can fetch you great business. During these shows the exhibitor has all the opportunities to gain new clientele, visibility and brand promotion at a single stop. But, not many exhibitors know the right techniques and strategies to extract good business by participating in such shows.
It is not an easy job but not an impossible one. All that is required is perfect planning, organizing and managing your activities well during the event. Read on to get some great tips on how to make the most of trade fairs.
Pre Show
Informing and Promoting
Preparation should start at least a week before. You should inform your existing and potential clients about the trade show and your booth. Fix prior appointments with them, send mailers or call them to give them "on the top of mind" recall of the event.
"Canvassing and getting your customers attention is very important. This can be achieved through right communication via trade publications and internet," informs Mr. Mehul Shah, General Manager Fine Jewellery Pvt. Ltd.
You should do advertise effectively to gain maximum exposure. Advertise on your website, trade publications etc. If your budget allows, go for advertisements in newspapers, magazines and hoardings on the road side.
This is the time when you should plan and decide your display material and its layout. Decide on the print material like catalogues, pamphlets etc. for distribution at the show.
 Deciding on Booth Location
The placement and interior of your booth is of strategic importance to bring more people to your display area. It should be decided with utmost care and due diligence before the show. The best location is the entrance of the hall although it may charge you little higher.
"A centrally located booth is all side open and will be accessible by visitors coming from all directions," explains Sunil Bangwal Group Manager, BD & Marketing, Bharat Exhibitions.
According to S.K Sehgal, GM, Domestic Fairs, India Trade Promotion Organization, "Being two side open, even at a corner of the hall is a better location to gain maximum footfalls."
You should seriously avoid getting a space near a washroom or aisle.
At the Show
Effective Communication
"Communication is effective when you are able to engage a visitor who comes for 2 minutes but spends 20 minutes at your booth," views Anand Pal, Director, Operations at Friends Exhibition and Promotion Pvt ltd.
The sales force employed at the booth should be street smart with excellent interpersonal skills to gauge the business opportunity in a visitor and accordingly spend time on him.
"Visitor will come out more openly without any hesitation and with lot of interest if you communicate to him in his language," explains Pal.
Trade shows are the best grounds for networking. Exchange business cards, get into discussion with your visitors, solve their queries, inform them of the new trend etc. Make a note of the discussion and talks you have had with the visitors for follow up.
Keep your booth area clean and abstain from eating and drinking in the display area. Make sure that a visitor is attended at your booth.
Promotional activities
"Promotional activities like lucky draws, quiz, take aways, free samples also prove significant to bring people to your display area," states Bangwal.
Post Show
"Rigorous follow up is required to get business with those whom you happened to meet. Revert back to them by sending acknowledgement mails either electronically or in physical. Send catalogues to them, elaborating your product or service, ask for quotations," informs Shah.
To stay in touch with your prospects, ensure regular communication as and when it is required. This will help in brand recall. If you get four new clients out of thousand visitors, your purpose is served.