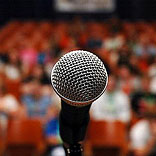 As an entrepreneur, you are required to raise your elevator pitch quite a number of times. While a perfectly crafted elevator pitch can win you good prospects, a poorly communicated one will lead you to miss opportunities. So what is an elevator pitch? It is actually a carefully designed, brief description of your business which you talk about when you are asked what you do. It is called 'Elevator pitch' because it is supposed to be a very precise description about your business which can be delivered effectively in a short time as during an elevator ride. Your elevator pitch should be designed well in advance and also you should practice well how to deliver it when required. Even a slight hesitation can lead you to miss out on an important prospect. Thus it is important to have a well developed and re-hearsed explanation of your business which can be delivered as and when required.
Here are three steps to put forward a perfect pitch:
1.      Though you get only a few seconds to introduce your business to others, yet it is important to tell your prospect the problem your business is solving. It is like beginning with some background information about your business and slowly create the hunger to know more about your business. Once you have created a little curiosity, you can then dwell upon the way your business works, your business model etc. among other things. 
2.  Another important component of your elevator pitch should be your value proposition. However it should be stated very concisely. The person should quickly get to know how your product or service can directly benefit him or solve his problem.
3.  Most people while talking about their business seem to be representing the entire organization. So they use expressions like 'we do', 'we offer' and the likes. This may be a good way in itself, however a perfectly crafted elevator pitch is presented in a personalized manner. The other person is only interested in what benefit he will derive from your product or service. So it is better if you use expressions like 'you' and 'your' which help you target your prospect.