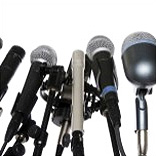 Like many business owners, you may feel that your regular monthly ad in the newspaper is enough publicity for the month and all you have to do is sit back and wait for the customers to show up at the door. Not anymore. Unless you are on the fast track to get your business noticed there is a good chance people will forget your establishment's existence. 

One simple way to get noticed is by learning how you can leverage the media to get free publicity and attract more customers. Generating good quality publicity for your small business is the most effective way for you to generate credibility and exposure for your small business, and almost at no cost to you. 

Why PR? 
"Every business requires a tipping point, an additional mile and PR helps the business to achieve this by providing convincing space," explains Devdarashan Chakraborty, Director, Strategy and account planning at Perfect Relations PR. 

Running any kind of business no matter how small without a dynamic PR program is leaving something that can rapidly grow your business in the lap of the gods. "Press Releases, internet blogs, co-sharing of website, doing an event, cluster led interaction programs (CLIPs) and getting associated with specific organizations like FISME are some of the ways in which small businesses can gain publicity," explains Sanjay Nagi, principal consultant at Market Insight Consultants. 

Here are some worthy ideas empowering business owners with a host of tools they can deploy to enhance the right eyeball by building a strong public relations program. 

Press Releases:  
A press release, when leveraged properly, can be a highly effective marketing tool for businesses of all sizes. Press releases related to growth or investment plans, new concept or product launch, new practices etc. are very quickly picked up by the industry media. 

Web based PR:  
Web-based is the new norm with increasing number of customers and suppliers having web access. Internet is an excellent tool for creating a buzz around your company. "One interesting way is to leverage press release distribution on websites like Webnewswire.com, IndiaPRwire.com, etc. to circulate your press releases with the media and internet," explains Kapil Rampal, CEO Creative Crest. 

There are many other similar websites that provide free uploading and distribution of your press releases like prfree.com, presszoom.com, i-newswire.com etc. One can easily access them and post their press releases. An online press release today is likely to wind up on national and international news distribution services sharing your news with media, investors, potential customers and the like, the world over. 

Blogs: 
Blogs are another platform for you to mark your presence in the industry. Research the top industry blogs, get in conversation there. If you don't have time to start your own blog, become an active commenter, or start micro blogging. Online article placements and PR/PR blog posts help you gain visibility through web searches like Google, Yahoo etc. 

Social Networking:  
Social networking sites like Facebook, Linkedin etc. can also give you free PR access if you have a good network on such sites and are member of the community or industry groups within these website. You Tube can also be leveraged to share your organization or product related information with link-minded & related industry people. 

Position yourself as an expert:
"Positioning your company people as an expert available for commentary on industry related issues will make you stand as an important player in your field and earn publicity for your products and services," says Nagi. Industry specific contributory articles, letters to the editor, case studies etc. are other means to highlight your spokespeople and gain standing for your company in the industry and the society.  

Active Participation in Events: 
Speaking at industry conventions, trade association meetings, conferences, trade shows and webinars provide an opportunity to demonstrate expertise to potential clients/customers and an invaluable opportunity to advance both your businesses and self.  

CLIP (Customer Led Interaction Programmes):  
'In CLIP, you bring together a group of customers, you convince them, build goodwill about your offerings and they become your brand ambassadors spreading good words about your products and services,' explains Nagi. 'Being small in size does not mean that you need to invest more to get the best things. Remember, most of the best things in life are for free, opines Rampal.  

"Public Relation not only serves as an advertisement for your business but at the same time it also provides your business convincing space by a third party endorsing your products or services and hence convincing the customers," explains Chakraborty.