Blog your way up the marketing ladder
With social media today gaining popularity in every sphere of life including brand promotion, marketers fail to grab the important role blogging plays in the area of marketing. But if used judiciously , blogging can become an effective marketing gimmick
Tags: Blogging
BY Entrepreneur | Jul 28, 2011 comments ( 0 ) |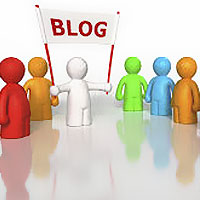 You have decided to start a business and accordingly chart out your business plan. You have a clear cut idea about how to go about in your business and who are the people you need to approach. You figure out the capital required to start up the venture. But then you fail to understand as to how to promote your business and inform the world around you about the business idea you are getting started with. The advent of social media has widened the scope of marketing beyond doubt but equally powerful is the power of the pen in articulating views, opinions, ideas, thoughts of a writer and also promoting one's business online in order to come to everyone's notice. Here I am talking about the medium of blogging that can suffice any other marketing tool when used in the most interesting way.
What is blogging?
Blogging is a kind of a website maintained by an individual. It allows anyone to type and post content to the blog home page. The content can be written on anything the author chooses to write. Graphics and video can also be used to substantiate the content and to arouse the interest of readers. A typical blog combines text, images, and links to other blogs, Web pages, and other media related to its topic.
Blogs also allow readers to post comments and add their own content after reading the blog. They can also subscribe to the content so that they are automatically notified whenever the content is updated.
"People don't log in because they want to read your blog, but they do go to Google and other search engines to find answers to questions and challenges and to find local suppliers and buyers alike. Blog content is what they look for. Blogs have worked themselves into the fabric of everyday marketing," says Deep Banerjee, Independent Marketing Support and Brand Consultant.
It does have its share of advantages also. Unlike newsletters that are costly, infrequent, blogs are free. One can post as often as one like and the company becomes immediately open and accessible to its customers.
How to get it started?
For initial bloggers, Banerjee suggests a three-step process for getting started –
1) Monitor a group of relevant blogs: Use a blog search engine and RSS reader such as Google Reader/BlogSearch to locate and subscribe to a dozen or so
relevant blogs in your industry, competitors, experts, etc. Learn how people blog, what they write about and how they engage their readers.
2) Comment on a group of relevant blogs: Visit some of your chosen blogs and add
relevant comments. Engage in the conversation going on inside these blogs. This, by the way, is an important part of online networking and may help get your blog noticed down the road.
3) Create your own blog and start posting content: Only after you've engaged in steps 1 and 2 for a couple weeks do I advise entering the blogging pool.
There cannot be a more powerful business tool for SMEs other than blogging to reach out to the relevant target business audience and sending across the intended message. They can use it to their advantage to engage more and more readers and seek participation from like-minded people.
Looking ahead…
Blogging can be said to be the starting point of online marketing for any brand. Though large corporations are extensively seen using this platform, the blogging movement has not really picked up amongst SMEs. But once its benefits are realised, it can do wonders for any kind of business. Moreover, it is neither too late nor too early to start writing a blog. One can start writing anytime, on any topic but with a clear idea in mind.