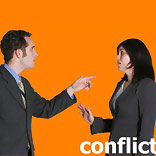 It's not unusual when two people working in the same team tend to have differences. But being the entrepreneur and thus the team lead, what should you do? The two people engaged in the conflict might be two most important people for your business; you might not want to lose either of them.
Here are a few points you should keep in mind when such a tricky situation arises:
Keep calm – Conflicts result in uncontrolled emotions and anger; at the height of either of which one's ability to think rationally is minimised. As an entrepreneur your aim is to resolve the conflict and not to add to it, therefore maintaining your calm is imperative. Only when you yourself are calm you can think of logical ways to subside the misunderstanding between two people; you do not want to lose either of them.
Listen – There has to be a reason for every conflict. And to resolve it you have to know what that reason is? Unless you listen to both the sides carefully it will be difficult to understand it and also solve it. The reason given for a conflict might not be what it appears on face value. You might have to ask questions to probe where things are going wrong. One of the reasons for such conflicts also might be your faulty policies. To discover and understand all that you will have to listen to people carefully.
Talk clearly and positively – The selection of the words that you choose and the tone in which you say it out are very important. Once you have heard and understood what's wrong, you need to decide what to say and how. Remember, you want to resolve the conflict so, what you say, your tone and also your body language should all reflect your intentions.
Do not place blame – Conflicts are a result of emotional outburst. At a time when everybody is already emotionally charged it's not the right time to play the blame game. Moreover, it will not help in your efforts of resolving conflict and getting everybody's heart and mind back to work rather than spending energy on fighting.
Be conscious of any signs even after the conflict is resolved – When there is some understanding between colleagues it might not get eased out so soon. Be careful and conscious of this even after the fight. Things might not pacify so soon. You do not want a burst of emotions for the second time.
Learn from conflicts – Conflicts might be a hint of bringing about some change in company policies or your attitude as a business owner. Try to learn from conflicts rather than considering them as hurdles in the development of the company.