What makes a good leader?
Possessing leadership traits needn\'t necessarily be an in- born quality. One can strive to become a good leader with sheer efforts and lessons taken from different experiences. But it develops only with time
Tags: leader, team, leadership
BY Entrepreneur | Aug 25, 2011 comments ( 0 ) |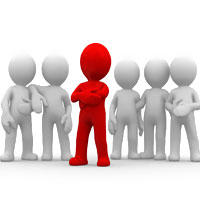 "People ask the difference between a leader and a boss. The leader works in the open, and the boss in covert. The leader leads, and the boss drives." - Theodore Roosevelt
Anyone can lead a team but everyone cannot make a good leader. A leader exhibits a unique blend of charisma, vision and character traits that attract people to follow them. Leaders are effective when other people acknowledge them as such--by listening seriously to their ideas, valuing and following their suggestions for action and turning to them for advice. And to become a good leader, a lot of ground work needs to be done. It also needs lots of persistence, consistency, dynamism, determination and dedication in a leader to lead a team, regardless of its size.
Martin Luther King, Mahatma Gandhi have all gone down in history as some of the most influential leaders of all times. Talking about the corporate world, Bill Gates; Former CEO and Chairman of Apple Computers, Steve Jobs; Infosys Technologies Chief Mentor N R Narayanamurthy are some of the most obvious examples.
A leader should have the following inherent qualities:
Understanding the role of a team leader and the responsibilities involved in it.
Practising and learning the skills needed to guide the team.
Ability to create an environment where team members will have the scope to motivate themselves and work cohesively.
Developing skills for turning conflict situations into positive problem-solving opportunities.
Developing skills for keeping the team focused.
Most importantly, providing vision for the future to the team
How a leader will get started?
Harvard Negotiation specialist, Alan Sharp, who has co-authored the book 'Lateral Leadership: Getting Things Done When You're Not the Boss' lays out a five-step method for leading a team.
Goal establishment - People accomplish the most when they have a clear set of objectives. Any group's first preference is to write down exactly what it hopes to achieve. In absence of a clear goal, the team will be led nowhere and complete chaos will prevail.
Think systematically - Effective leaders learn to think systematically. They gather and lay out the necessary data, analyse the causes of the situation and propose actions based on this analysis. In a group, a leader helps keep participants focused by asking appropriate questions.
Learn from experiences - Teams often work on the whole project first and then conduct a review at the end to figure out what they learned. But it's all the more effective if teams (or individuals) learn as they go along.
Engage everyone - A high-performing team engages the efforts of every member. Suggest writing down a list of chores and then divide the tasks among individuals or subgroups. If no one wants a particular task, brainstorm ways to make that task more interesting or challenging. Help draw out the group's quieter members so that everyone feels a part of the overall project.
Give feedback - One thing that is always needed is a simple appreciation--"I thought you did a great job in there." This will help people improve their performance. Effective coaches ask a lot of questions: "How did you feel you did on this part of the project?" They recognize that people may try hard and fail anyway.
Finally...
It is not important how big a team one is leading, but what matters is how one is leading the team. The performance and efficiency of a team depends on the kind of leader who heads it. A business fails to achieve its targeted result in absence of a good leader.