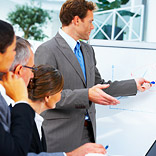 Small business or big business, there is no greater resource than a motivated team. However most entrepreneurs fail to realize that this does not happen on its own. You as an entrepreneur need to make painstaking efforts to keep your people charged up so as to ensure high performance and a great degree of commitment from them.
Taslima Khan suggests five mantras to get your employees into action.
1.  Create Options to Earn More
Munish Bhalla, COO, Osim India which deals in fitness and healthy lifestyle gadgets says, 'Employees can be given the option to earn 30% more than their regular salary. This additional income forms a strong incentive to perform better. Often employees go out of their way accomplishing their own goals as well as those of their company.'  
2.   Upgrade Skills
Is your team trained enough in their respective beats, to meet targets, perform in high pressure situations etc. 'Organise training sessions to help then learn and upgrade their skills,' says Balwinder Singh Ahluwalia, COO, Koutons Retail India. Learning new skills also breaks the monotony of routine jobs, making the work experience more interesting.
3.  Increase their Involvement
One good way to help your people be better involved and enthused about their jobs is through job-enrichment and job-enlargement. Add roles in your employees' portfolio. Expose them to more activities and increase their span of activities.   
4.  Inculcate Team Spirit
Building your team requires a lot of cohesive forces between employees. Balwinder Singh at Koutons tells us, 'We often design projects where employees get an opportunity to work as a team. Sometimes even 2 or 3 teams work on the same project. Such an exercise promotes healthy communication between employees and also makes them enthusiastic about a project.'
5.  Address Grievances
Open communication between employees and senior management works well to vent out grievances and also get them addressed. It also strengthens employees' faith in the entrepreneur. D K Jairath, COO, HHRL says, 'We conduct 'Open House' once in a month. This is an informal non-business meeting where the management team holds open hearted discussions with all employees. This is a great exercise to get your issues addressed.
6.  Encourage Suggestions
Giving people an opportunity to suggest better ways to do things is quite encouraging and rewarding. Rewards can be given to the employee who comes up with the best suggestion. 'As Jairath from HHRL informs us, 'A suggestion box is put up at every centre of the company which is taken care of by the HR department. Employees, anonymously or with their names can pen down their problems or offer suggestions for improvement. These suggestions are looks into by the Core Committee.'   
7.  Treat Under Performance  
If an employee is not performing to the desirable level, you should inspect into the underlying reasons. Munish Bhalla at Osim India says, 'We conduct regular performance reviews. If an employee is not performing, an assessment is made of the reasons. One needs to figure out if the problem is of attitude rather than aptitude and take corrective actions accordingly. Sometimes a reasonable amount of pressure is also important to drive performance. reasonable extent.