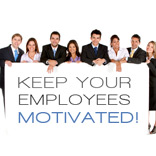 It wouldn't be an exaggeration to say – behind the success of every company there is a group of motivated employees. It's the team work that brings success to your company and not just your efforts. It's your employees who convert your passion into reality so they deserved to be pampered and motivated.
What do businessmen do to take care of their employees? Corporate houses and big companies have an HR department to take care of their employees. But as a small company or a startup, this might not be a feasible option for you. You might have to take care of your employees all by yourself. But how to do this when you are busy handling the operations of your business?
Here are some points that will help in making your task with your employees easier.
Incentives and Perks – Offer incentives and perks to motivate your employees. Any monetary benefit that you offer to recognise the extra effort put in by your employee is incentive and other benefits like a holiday trip, gift vouchers etc are perks. Your employees will be more efficient if they know they will be recognised for their extra efforts. Every company has its own way of giving incentives. Some give bonus during festive seasons, some plan vacations for their employees, yet others offer to give lunch coupons and cab facilities.
Help them plan their holidays – People earn because they want to raise their living standard and build a status for themselves. Help them enjoy their life by circulating a list of holidays at the beginning of the year. This will help them in planning their vacations and holidays in advance.
Appreciation and building relationship – Appreciate the efforts that your employees have put in. Praise their hard work. Acknowledge their proactive attitude. How to do that? You can have your own ways to do so. There is no fixed time or method for this.  Mr Sanjay Jha, Executive Director, Dale Carnegie says, "Process can never take over relationship." Your relationship with your employee benefits or harms your company. If you are on good terms you will get honest feedbacks and hence the areas where you can improve.
Trust your people – Ms Anu Aga. Ex-chairperson of Thermax, says, "It was because of the support of our employees that we could manage to regain our lost glory." So how did the family motivate their people? "We nurtured an environment where we created a psychological bond between the company and the employees. We trusted our people and also we liked to be trusted," she adds while talking about the Thermax story at a conference. To show trust in your people give them a sense of ownership; by doing so you make them accountable towards the company.