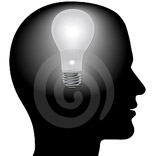 Creative thinking is what will help you and your team come up with innovative ideas that will enable your company to stand out in the market and give your competitors a tough time. This has often been said by veterans and experts. But how can a person keep his/her creativity flowing when he/she is caught up in the daily chores of the business?
According to KS Ahluwalia, Executive coach and a mentor for entrepreneurs at Excalibre says, "Creativity is not just thinking out of the box but without a box. When you have a box there is a limit so get rid of the box and think. Then match your ideas with the skills you have and make a business plan and execute it. But that does not mean you stop being creative. Creativity is a continuous process which does not end in ideation but also with execution and monitoring the idea."
An entrepreneur need not be the most creative person in a company. But he definitely should be the leader in making the environment creative. Here are some points that an entrepreneur should keep in mind to make the atmosphere of his/her company creative:
Encourage people to speak and listen to them: In Mr Ahluwalia's words, "Most of the people do not speak at their work place because they think its not their job. What your employees speak might not be a business idea for today but for tomorrow. And tomorrow when it is manifested the team from where it came will work hard and ensure that it is a success. As an entrepreneur, you need to marry your employees' vision to your own."
Listening to your people does not mean you agree with them. But give them a vent to let out their reaction towards a certain problem.
Give your team their due credit: The father of modern psychology, William James said, "The innate desire of a human being is to be appreciated." If as an entrepreneur you have understood this, you have hit the success chord. Several surveys suggest that it is not because of money most people leave their organisations but because of lack of appreciation.
Tap everyone's creativity: You should learn to tap the creativity of not just your core team but also others who might not be holding important posts. An entrepreneur, Aditya Basu, who owns Extreme TV says, "My Company was once facing a serious problem with one of our clients which unfortunately was because of our own negligence. The client was important to us. No one knew how to handle the client. We were in a fix when one of the youngest members of our team who had been with the company for just three weeks came up with a solution that was simple and it worked."
Encourage creative processes like brainstorming: Processes like brainstorming are often associated with advertising agencies and the likes. People hardly think it is important for a consultancy or a software company to brainstorm. But something that most entrepreneurs miss is that creativity is not just a part of making ads or films but also a tool of marketing and sales, customer service and even business model. The revenue sharing of business was born after a lot of ideation and today it is one of the most popular models of business.
Reduce obstacles to creativity: Time, pressure, harsh criticism of new ideas and office politics are obstacles to creativity. As a leader you have to work on reducing them. A research by the Harvard Business School suggests that too much of pressure and time constraint are bad for creativity. But at the same time too little pressure does little to help creativity. You have to learn to strike a balance between them.
Invest in yourself:  Nandini Vaidyanathan, a mentor for start-ups at a conference said, "Invest in yourself. Attend seminars, workshops and other classes that may be related to the areas in which you are interested. They will stimulate your imagination and expose you to new concepts, trends and thoughts." Only when you yourself are creative will your team be so.
There can be several other ways unique to your office and team in which you can encourage creativity. Discover them. After all being an entrepreneur means being always on toes in search of novelty!