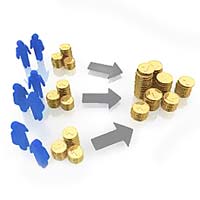 Without money, a business is like a fish without the water, struggling to survive. We all know that a business needs money at different stages: while it is starting up, be it a second round of funding or while expanding.  Albeit, money has equal importance in all stages of business, it holds a special importance in start up. Well, a business idea may be simply superb but it is helluva job to convince a financer to believe in it. What if your family is not happy with the project, what if the bank declines to approve a loan, what if there is no financer; you will be stuck in a rut with no taker in near sight.
Necessity is the mother of invention, no wonder we are hearing of newer options every now and then. Be it VC, PE or Angel funding, their message is loud and clear: No business should come to a standstill because of lack of fund. Recently, we have discovered a lesser known option of seed funding or start up fund called Crowdfund. If this term has ignited enough curiosity in you to know more about it, let's know this financing option in detail.
Meaning       
As the name suggests, Crowd Funding is a type of funding in which fund is collected from various individuals to start or run a business. The most popular channel for raising the fund is internet- your social network. The crowd can be a community or formed from unequal groups around the world who are interested to fund a person, project or venture.
Difference between Crowd funding and Angel funding
Crowd funder is a benevolent investor who may not get anything in return for investing in a project. He is simply giving wings to a project because of reasons like sympathy, allurement or fancy whereas an angel investor is seriously seeking big returns on his small chunk of money. So, where crowd fund is an unorganised investment option, angel funding is much more organised form of investment.
Suitability
From the above, do not opine that projects which can be financed from the traditional methods are suitable to a crowd funding project. Exceptional projects like a new idea, creative work like a film, song album or painting exhibition etc fall under the category. In short, any work which fails to attract traditional funding can be made eligible for crowd funding.  In short, there is no dearth of people who are sitting with their brilliant ideas for lack of finance. For them, crowd funding is a blessing in disguise.     
How it works?
Advent of the internet and launch of platforms like crowdtube.com, kickstarter.com and rockethub.com etc have made it possible to post funding requests. For the purpose, one can make a video or simply upload a text with all the details. They can also advertise the reward. They can use social media like LinkedIn, Twitter, Facebook etc to reach the crowd with their demand.
Already, debt based crowd funding platforms have been launched and equity based crowd funding could be expected to be launched in near future.
The internet, email and social media network sites have made it possible for us to reach a large audience and build a vast network of friends and enabled us to interact with them more easily and frequently. Crowd funding is an opportunity to influence this social network to quickly fund a business venture.
According to Pooja Kumar of SME JOINUP, "We provide an opportunity to HNIs or individuals who are keen on investing small chunks of money on organisations in exchange of equity. We allow a group of individuals to invest in a segment they wish to invest in. This will allow some relief to SMEs who do not have security to offer to banks or who do not have huge requirements to approach a VC or PE fund".
Conclusion: Managing high risk early stage funding is a difficult ball game altogether. The term crowd funding may be new to us but the solution has been prevalent from the days of yore but by other names. One such community is Gujarati community who likes to help their fellow counterpart who has failed in his business by coming together and contributing in his kitty until he stands back on his feet again. I am sure many other communities also must be doing something of the sort but not known to us. So, all those of you there, if you are desiring fund through unconventional means, here is a silver lining!