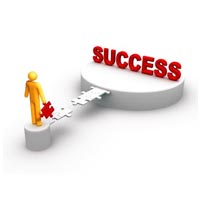 In a research concluded by SF Chandra Sekhar, Faculty member, Siva Sivani Institute of Management, Secunderabad, a number of small industry failure in India is increasing at a higher percentage. More than 1,000 new small scale industries are started each day in our country but approximately, 900 of these firms eventually fail.
In 2012, 379 technology-product start-ups were launched, out of them as many 87 were shut down during the year, according to a study compiled by Microsoft Accelerator, India.
Talking to some experienced entrepreneurs, SMEntrepreneur shares some points that will help entrepreneurs for the survival of their start-ups during their first year. It will help also them to sustain and compete with larger, funded start-ups.
Seek Customers' Feedback
Customers' feedback plays an important role in sustaining of a business for the first 365 days. An entrepreneur must talk to people who are likely to purchase his product. This can not only be done through interviews. Knowing what customers wants to say about his product should be a regular routine for an entrepreneur.
These conversations not only help entrepreneurs re-design and build their product the way customers want it, but also help them to build a healthy relation with its customers and help them to know about the market, their product value and consumers' expectation.
Be Ready for Challenges
The initial weeks and months of running a business are much challenging. An entrepreneur would start facing number of unexpected challenges like shortage of raw material, transportation problem, funding problems that would create a disturbance in his business.
Vipin Malhan, Director, Vidya Electrotech Pvt Limited, says, "An entrepreneur should not get disheartened with the problems that comes in their company but they should move on in business and sort out that problems. Problems can only be solved if anyone faces it."
In the beginning, there is a belief that an entrepreneur can do anything. But reality hits at a point where there are too many problems at a same time and areas where the lack of knowledge and experience of the business owner starts to show. An entrepreneur should not feel bad and continue with his strategy.
Product Perfection
In order to be the first one to introduce that product in the market an entrepreneurs should first launch its product and later start working on the production perfection.
In the current scenario, there is high competition in the market. There has been a race in the market to launch new products. If an entrepreneurs gets late in introducing his/her product them some other company will introduce the same product before them. So it is necessary for the entrepreneurs to launch their product first. Later a company can work on improving its product in market according to the customers' feedback.
Keep Financial Backup
Most start-ups run at a loss for the first couple of years. An entrepreneur should keep a back up of money so that they can survive their business in the initial days and also they are able to meet future expenses.
"In the initial stage of business an entrepreneur might face some loss or low profit but things would really change one day. Surviving at that time and saving as much money. If an entrepreneur tries to reduce extra expenses then he can easily survive in his initial days." added Sakesh Sharma owner, Solovision Enterprises.
Some start-ups face losses later in the end of the year. They need to clear up rents, electricity, and other dues from various departments. In order to be prepared for meeting that expenses an entrepreneur should always try to have that much money.
In short, an entrepreneur needs to have enough money to last 12 to 18 months safely in the market. An entrepreneur should better start saving early or a year before starting a business.
Innovation-Something better
India is a market of making new experiments. If an entrepreneur tries to introduce something new in market then only consumers would attract towards his brand. Already there are several competitors of product in the market these days which result into a difficulty for new product to be caught in consumers' eyes.
If an entrepreneur tries to introduce some innovative product in the market then the customers would easily get to know about the particular product and they would try to experiment about their product.
Try to Reduce Cost
An entrepreneur should always keep a check on how to reduce its cost so that his profit can increase or the price of product gets competitive in market.
Cost includes fixed cost and variable cost. An entrepreneur cannot change his fixed cost but can bring a big change with just working on its variable cost. He should even include all the petty expenses so that his profit ratio is perfect one.
JP Kaushik , President, Indian industries Association says "If a person regularly keeps a check on the cost of the product he is selling and regularly revise the cost, this will help him to increase the rate of profit as well as help him to learn about managing his purchase according to sales".
Starting up a business in much easy but business takes time to show profit. Till the entrepreneur should try to manage his business and work on sustaining throughout that time period. If an entrepreneur keeps these basic points in his mind then he can easily sustain his business for the first couple of years.