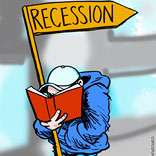 Whether recession has reached its termination point or not, is still unknown but what is known is our changed perspective towards the financial world and handling our finances. The recession forced us to compromise with our lifestyle. Recovery will happen and now we will be better equipped to manage ourselves as consumers and investors. Every entrepreneur has learnt some valuable lessons and some of them are:
Cost control mechanism
When we think about the most common mistakes made by us as an entrepreneur, 'unnecessary expenditure' tops the list. This is one such habit which has proved to be disastrous when it comes to reality check. During recession when revenues collapsed, cash flow squeezed, it was cost-cutting or cost-control methods which proved to be the saviour. Cost-control taught us how to prioritise our needs and how to effectively generate maximum high quality output with minimum inputs. Kiran Nandkarni, CEO, Kaati Zone says, "To get customers whose purchasing power had gone down drastically we had to introduce innovative offers and meals which were price sensitive. We were hit in the corporate bulk order business segment."
Diversification
In general be it any industry, especially service or manufacturing, we tend to rely on a small pool of high-end customers or clientele who generate the greater part of the revenue for the growth and survival of our business. Recession exposed the darker side of such dependency when these high priority clients took their hands off the business, thereby, plunging it into financial crisis. So, what we learnt is that as entrepreneurs we should have a holistic approach about the business, whereby we increase the pool of our clients and also diversify into different verticals in order to prevent from getting hit in future. According to Rahul Jain, CEO, Business Coaching India, "Recession has taught that reliance on a small segment cannot give long-term security, thereby, one should always go for diversification to minimise the downturn effect."
Distinguishing want and need
This is one of the most important things to be realised. As business owner we need to know our priorities and should be able to analyse how to cut the unwanted or unproductive elements in order to achieve quality products at lesser inputs. On the whole it refers to maximum utilisation of productive resources to create more value with less work.
Job fatigue
The outlook of the job market, pre-recession, was very rosy and employee friendly where a job-seeker had plethora of options and the employer had to lure his employees in every possible way to control retention rate. But post-recession the situation reversed and the picture became gloomy, thereby hitting both the employees and job-seekers. Recession surely gave professionals running on a high, a reality check, which forced them to bow down. Ashish Kapoor, CEO, Yo China says, "Earlier it was easy to get below managerial jobs and so people did not realise the importance of being well educated and job value."
 Credit check
In the past also we have seen banks going bust during the great depression and significant lessons were learnt but this time they accumulated inordinate amount of risk from their own assets, which sunk the entire financial sector, overnight. Home loans being the best bet in debt market turned up to be the cause of the crisis. The so called sub-prime crisis was a product of the negligence by banks over analysing credit worthiness and portfolio management. Therefore, financial markets and institutions have affirmed the importance of credit worthiness.
Stocks can lose value, even in the long run
Popular beliefs say that stocks are considered volatile in the short-term and so we expect returns to be positive if we give our investments sufficient time to grow and go through market cycles. This conventional practice got a hit during recession period when many investors switched from daily trading to relaxed investments which made them see their hard earned money devaluing overnight.