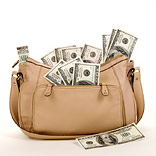 Managing expenses is one of the crucial steps in controlling a business, especially for small business owners. To have a system in place in order to keep a check on expenses is extremely beneficial. A great way of doing this is with a credit card.
Credit cards, especially if you use the one designed specifically for your business can give you a great advantage.
The advantages in having a credit card designed for your business:
They allow you not only to purchase items and pay for them later, but also allow you to keep track of your expenses. "Business credit card is different from the retail credit card in several aspects. By consolidating all the business expenses on this card one can control the overall expenses incurred," said an executive from Citibank.
Some cards are designed to provide business owners with extra services such as discounts on various items of purchase. Talking about the benefits that a card holder gets on a business card, an executive from the ICICI bank said, "A business cardholder gets discounts on office supplies, stationery, furniture, machines, travel tickets, hotel bookings etc."
It will help you keep a track on how much your employees spend and on what do they spend. You can still use your statements and receipts to determine where your money is going.
Another great thing about many business credit cards is that they allow you to give employees, administration, and management their own credit cards under the same account. This will lessen the chaos about money in your own mind. You can focus on your work rather than thinking about where the money is going. At the same time it will also empower your employees to take their own decision but not misuse their power.