Handling SME Investment hurdles
Finance is challenging to secure, difficult to retain and impossible to pay off!
BY Entrepreneur | Jun 02, 2011 comments ( 1 ) |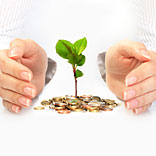 This anecdote well describes the financial situation for most of the SMEs, who are neither in the micro category which move on under the government and NGOs mercy umbrella, nor large enough to go and grab their share. They are left dwindling mid way in search for financial partnership and flexibility to concentrate their efforts in proliferation of their core business activity.
The SME ecosystem
According to various statistics put up by VC Circle, India's SME sector accounts for 40% of factory output, 40% of exports and 70% of employment. After agriculture, it is the SME sector that generates the maximum employment. Now, if the economy has to race past the 9% growth target in a sustainable fashion, the bottlenecks for SME progress need to be clearly addressed. The major hurdles that act as barriers between the investors and SMEs are as follows:
ROI not completely risk averse
Information and intension gaps
Exiting investment becomes tricky
Matching-up with the investors
What do VCs or angels look for in your company's business vision before investing? How do you scale from Rs 10-crore revenue to Rs 100 crore? How do you deal with investors on your board? How do you manage operational challenges? How do you make a game-changing hire? What should you look for in your immediate business environment and the global macro indicators? When should you be risk-averse and when should you be risk-taking? What part of the first generation entrepreneur DNA do you need to shed while growing scale? These are the questions that one needs to answer as an entrepreneur to gel well with the investors' clan.
"The most important thing to note while getting the PE investment into the company is to have clarity of purpose with which the funds are being raised. Although the chances of wrong utilisation of the funds are significantly lower, with the presence of the PE investor on the board of the company, however, it does impacts the negotiability power of the entrepreneur if he does not have a clear vision or a path," draws Jagannadham Thunuguntla, Strategist & Head of Research SMC Global Securities Limited.
Amicable financial package and exit strategy
Jagannadham, further elucidates that given the high amount of risk these investors take, and the duration of their investment, PEs invest in the business on the strength of the manager's business plans, knowledge, trust and negotiations with him. The key factors which an equity investor look for are –
Promoter's track record
Committed management team with a proven track record
Midsized businesses with maintainable growth prospects / competitive advantage.
An niche or a growing segment
Openness to Corporate Governance, transparency and legal compliances
An exit option – like IPO or trade sale in the next 3-5 years.
The critical point to note here is that, they are not investing to be with you, their ultimate aim is gain from your business. To convince them that it is going to be a win-win situation it is mandatory to have an ambitious yet achievable exit strategy and target.
Equity investment is not the end of the road
When it comes to financing a business, there are two basic types of funding: debt and equity. Loans are debt financing; you borrow money and must pay it back, with interest, within a certain timeframe. With equity funding, you raise money by selling a portion of your ownership in the company. The other method can be "Debt financing". Businesses can be funded with debt financing by financial institutions – bank loan or line of credit that comes with a repayment schedule and an interest rate. The financial institutions scrutinize the company's cash flow, collateral, and asset liquidity. As a precursor the entrepreneur must have a sensible, written business plan, and have a firm grip on the financials.
"The upside of debt financing is that you don't have to give up equity; and it is available to companies that can't get equity funding. The downsides are: heavy interest rates, limited networking or "business savvy" value, and may require personal collateral such as your home," explains Jagannadham.
Overall, debt financing is typically cheaper than equity financing because you owe only principal, interest, and fees, and retain your full ownership stake in your company. So, good intentions, great planning and strategic implementations can wash away all the investment hurdles- SME sector is soon going to dawn as the blue eyed sector in India's economic ecosystem. Properly allocated resources (man, money, material and machinery) will help you ride this wave and stride ahead of the other.
Please add your comment
Vibhakar singh
June 04, 2011 at 5:47 am
As u leave in charge
Reply |