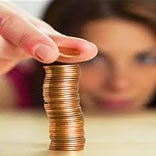 Quite often you are lead to believe that you cannot afford to start a business. Eking out a loan from a bank is little less than a necessary evil. However, one smart way to go ahead with your startup without waiting for loans or investors is by bootstrapping your startup. This means starting on a shoestring and putting all the money you make back into the business. Bootstrapping will keep you out of debt as long as you remember that any profit you make goes toward growing the company. This has always been a smart way to start a business with less financial risk and in today's economic climate, it's smarter than ever.
Here are some tips for bootstrapping your business:
1. START A LOW-COST BUSINESS
It might be nice to open the first of a chain of retail clothing boutiques or hamburger joint, but most brick-and-mortar businesses require lots of cash. Service businesses or e-commerce businesses, on the other hand, require lower investment. Find a 'middle ground' between your entrepreneurial dreams and the reality of startup costs.
2. DO WITH LESS
Learn to use what you have before considering a purchase. Will your old computer work for now? Of course it will. While buying in bulk may be the way to go in the future, a startup company that is relying on bootstrapping principles needs to 'economise differently'. So, manage your inventory wisely as it consumes cash and valuable space. Similarly, spend what you need to make a good impression on clients.
3. FOCUS ON SALES
Sales and marketing is the most vital component for the success of any business especially incase of bootstrapping. Generally people are not trained in this field and so are not able to understand its relevance. According to Rahul Jain, CEO, Business Coaching India "Your sales performance is directly linked to your company's revenue generation which in turn shapes up your regular cash flow on which any business survives". So, if your sales and marketing is perfect then every other thing falls in place.
4. INCUBATORS
These are institutions (private & government) which provide crucial support to any new start-up in terms of infrastructure, mentoring which of course is a blessing in disguise for any bootstrapper. You need to check which government bodies to support your business and among private players you have NASSCOM, TIE, Headstart, then eminent educational institutions like IITs and IIMs etc.  
5. SPECIALISE
Even if your dream is to have a multi-level business offering a host of services, when you are bootstrapping, it's wise to do one thing perfectly and stay focused on turning a profit immediately. Juggling a variety of ventures will spread you too thin and limit your productivity and effectiveness. Once the money starts flowing, you will have options open to you.
6. MANAGEMENT
Micromanage your day to day work life. Be aware of everything going on in your business. You cannot afford blindly trusting people or systems. A simple accounting program combined with online business banking can give you access to daily reports that show you exactly how much is coming in and going out.
7. BARTER
Bartering means trading your products and services for someone else's instead of paying cash. For instance, your Web design company could design a marketing company's site in exchange for their handling your ad campaign. You can join an official barter exchange (search for them online), or use informal barter with other business owners. Just be sure you put an agreement in writing so everyone knows what they're getting.
8. GO FOR THE LOW-HANGING FRUIT
Get more cash in your coffers by focusing first on the projects or products that are easiest and least expensive for you to handle. When you've got more money in the bank, you can tackle those longer-term projects that require a bigger investment.
9. RESEARCH
To stay steps ahead of the competition first of all know who the competition is. Research what they are doing and what is success for them. Learn all you can about your field. Bootstrappers pay close attention to what other people and businesses do, so that they might emulate good business ideas, or deviate from the norm with better ideas. It's amazing how many businesses are founded on the basis of so little research or planning.
10. MONEY 
Control your accounts receivables. If you extend credit to customers, stay on top of the due dates. Give a cash discount if customers pay their bills within a certain amount of time. That's an incentive people often take advantage of. Shorten your billing cycles and keep the cash flowing in. Extend your accounts payable. Do the opposite with the credit you have been extended, at least until the money is flowing in a fairly predictable manner. If you have 30 days to pay, take 30 days unless they were kind like you and offer a cash discount.  
11. PUBLICISE FOR LESS
Carry business cards with you everywhere. Talk about your business through word of mouth and multiple networks like Blogging about your company, using social networking sites like Twitter, Facebook, LinkedIn which will give you widespread exposure, all for FREE. These sites will not only build your image online but if used creatively, you can sell products, run contests, offer deals found only on your website, and interact with your customers. Also learn to use SEO, Search Engine Optimization to drive customers to your website which in turn means more visibility and more business.
12. AVOID EXTERNAL FUNDERS
In many ways bootstrapping a startup business is preferable to dealing with investors. You can call all the shots and change course as you see fit. Go where the money flow is to start. This is more difficult if you are tied in by many interested parties. Rahul Jain says "the best thing to do is that you bootstrap your business and once you have settled and are in complete control, then you can negotiate with investors on your own terms".