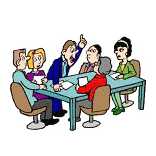 So, know the essential Ps and Qs of business etiquettes to avoid any breach of manners that may offend your clients resulting in consequent loss of business. Wrong behavior is mostly un intentional and not many people many admit that they have erred. Moreover, many even fail to recognize their faults because self introspection is difficult, and also they may not be exposed to trends. Not all have attended MBA classes. Moreover, business acumen can be acquired biologically, but etiquettes do not come in legacy; they need to be practiced. Here are a few from the list:
Humbling behavior:
We all love a boss who is soft spoken and caring. Everybody avoids a grumbling boss which is also a big reason of attrition. If you want your employees to stay on for a long time, keep your temper in control, be soft spoken so that they are not afraid of you and find you approachable in case of a problem.
Be courteous and thoughtful to people around you regardless of the situation. This doesn't mean compromising with your principals. So, stick to your guns but as diplomatically as possible. Solve conflicts taking the situation in account and do not get personal on this.
Remember about people whatever you can. Remember to wish them on birthdays, stay connected with them by inviting them on coffee, tea etc.
Keep notes on people, their names, designations, phone numbers, birthdays, spouse and children's names. Never forget to wish them on birthdays, promotions and other events. Send condolences for the death of a loved one or a family member.
Remember, your kindness will create a good image of you and this will result in greater output and a congenial environment.
International business:
I remember, in my last job, I was working for an export company, where the Director always asked his secretary to make a review of the country he was visiting to know, their culture, their language, their habits, their time zone, working timings, food customs, their etiquettes, holidays and most importantly their law etc. This helped him to stay prepared for any emergency and also to bond better with the clients.
Rules for Meetings:
Make sure you are well prepared before calling a meeting in consideration of yours and other's time. Communicate beforehand the purpose, objective, time and agenda of the meeting.
If the meeting is stretching to over time, reimburse the participants, provide snacks, food as per the need and also conveyance if need be.
Do not forget to thank all after the meeting. And make sure that minutes are distributed to all even the absentees so that they are acquainted of the proceedings.
Communication:
Always return calls. If you don't have an answer to the caller's question, direct them to the correct place to get it.
If you are out of the office, leave a message in the caller machine saying when you will be back or when they can expect a call back.
If your mailbox is full, transfer them to another address. A rude machine is as bad as a rude man. If you are not interested in a call, politely refuse it.
Emails should have address and sign, although this is included in the TO and From section, remember that you are communicating with a person and not computer. And have an auto response installed to acknowledge the mails received and to give any information.
Avoid butting in:
Do not take your subordinate's time for granted and interfere in their session or meeting. Remember, their time is as important as yours and this may offend their ego thinking that they are only puppets in the hands of the company and seen as less human.
Dress maketh a man:
Lack of concern for your clothes may communicate a wrong message that you do not care about the company. Formal clothes go well for the week days, while informal clothes do well on week days. Always keep your appearance clean and practice impeccable grooming.
An ear in HR:
Listen to unsolved grievances of people and try to solve them as early as possible. This will instill a belief in people that the company cares for them.
Invest in relations:
A study found that 40 per cent of the management hires fail in the first job itself as the management fail to build relations with the peers and subordinates.
In this rapidly advancing scenario that is through technology promotion is quite possible and even likely. So, having a consistent behavior towards everybody will help; whether they are subordinates or superiors.
Social settings:
Social dos do help making an impression so do not ever forget to carry business cards. Arrive at stated time or 30 minutes later but never before the stated time.
Always refresh your memory with the database of people you are going to meet before leaving the house and take care of your table manners there.
Right etiquettes will take you a long way, so take a leaf from here!