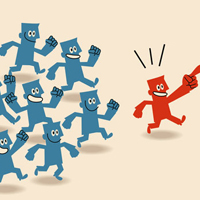 Evangelists are passionate individuals who believe in an idea. They have deep domain knowledge and reach out to the community to promote and build a critical mass of support for that idea. They adopt a focused approach that involves building, managing and networking within communities in the start-up ecosystem.
Dhruv Raj Gupta, Co-Founder, SeekSherpa, a mobile marketplace that connects travellers and locals, felt the need to associate with an evangelist when his team was confused about their firm's future. "We found ourselves struggling and we needed an evangelist or a mentor who could guide us and help us speed up the entire process. We realised that first we need to have a complete understanding of the travel industry. And that's when the concept of an evangelist came in," says Gupta. The experienced guidance helped Dhruv and his team to scale up SeekSherpa and built a platform for them to progress and grow more easily.
"Evangelists are the preaching people. Their goal is to consistently propagate the message of start-up to the world. Great start-ups' founders and initial hires become the first evangelists. The job of an evangelist is to build the community of believers. To become a great leader, one needs to become an evangelist first. It is a gifted skill and not many have mastered it. Working on their skill for start-up benefits is the only priority in the life of an evangelist," says a serial entrepreneur turned angel investor Sanjay Mehta, Founder & CEO, MAIA Intelligence. Being a technology evangelist himself, Mehta started MAIA in 2006 and has created thought leadership in the business intelligence and analytics community.
Evangelists can team-up with multiple start-ups at a given point of time depending on their bandwidth, interest and the amount of support that a start-up requires by sharing some equity or becoming an investor in the organisation themselves. "It's a hard job to mentor and work with multiple start-ups without having conflict of interest. Successful evangelists are sought after individuals as they have a significant impact on an industry or technology niche," Mehta explains further.
Experts suggest that a start-up should engage with evangelists when it wants to create the community of believers who believe in its idea. Evangelists' idea about the values, benefits and success for the start-up is extremely high. They are the subject matter experts and self-motivated personalities with a missionary zeal to make a start-up successful. "Typically, start-ups connect with these evangelists by leveraging the networking platform provided by organisations like TiE Global (The Indus Entrepreneurs), NASSCOM, and with the help of various incubators and accelerators dedicated to fostering entrepreneurship," explains Gupta.
Diverse Role of an Evangelist
Since evangelists are considered as acknowledged experts, the earlier an evangelist is on a start-up board, the better it is. They help start-ups understand business dynamics and assist them in developing meaningful business plan. They mentor start-ups on strategy, business model and monetisation, fundraising and on preparing the company for growth. They also encourage start-ups to bootstrap and build a robust offering that has a meaningful value proposition and a strong business base.
An evangelist wears many hats. "The role of an evangelist is to help people understand what it takes to build a business, what it takes to take an idea into the market and how to convert an idea into a real business. They also help people understand that entrepreneurship is a serious career option that has its fair share of challenges which can be only overcome with persistence, passion and commitment," says Prajakt Raut, Founder, The Hub for Start-ups. Raut helps start-ups develop, refine and optimise their business plans and investment pitch. Being an entrepreneurship evangelist, his goal is to encourage and assist 100,000 people become entrepreneurs.
Evangelists also guide start-ups who are facing problems with their intellectual property, innovation, connections and information they need to succeed. "An evangelist's job involves building growth and momentum in start-ups by establishing trust. It may include demonstrating the product or service, writing articles, speaking at conferences and creating many other such communication avenues to help start-ups achieve their goals," Mehta asserts.
Evangelists tend to come with years of experience and this experience helps start-ups in understanding and avoiding the potential pitfalls. "An evangelist helps you at every major stage to figure out whether the route taken by you is correct. One of the strong traits about an entrepreneur evangelist or a mentor is 'blue-sky thinking'. They will challenge you in what you are doing at a particular time. They will answer all your queries and help you reach a logical conclusion on the basis of the discussion. Hence, they have a very holistic and pragmatic approach towards your business," shares Gupta.
Value Addition for Start-ups
Not only start-ups, all successful companies have a diversified setup of mentors and advisors on board because they bring in different perspective. "In a start-up parlance, it becomes important to have as different perspective, learning and experience from experts which will eventually benefit the business," Raut says further.
An evangelist guides entrepreneurs in areas that they may not have enough experience. He enlightens entrepreneurs on their path to success by providing them an insight from his own failures, learning and experiments. Evangelists are able to cut short the challenging journey of an entrepreneur and guide them on building a sustainable and scalable business. Their role is also to help the people scale their thinking and business to the next level.
"They keep bringing an entrepreneur back to the reality. They have so much information about other start-ups and what is happening around, so they widen entrepreneur's horizon and motivate him/her to speed up the growth process. They help the entrepreneur think very fast and also challenge his/her assumptions," Gupta adds further.
Typically, an entrepreneur tends to focus on the offerings, but there are businesses that need to be built around the products or services. Thus, a mentor or an advisor helps start-ups think in different aspects of building that business. "Evangelists make entrepreneurs see the much larger picture, and accordingly guide them in building a strong foundation to scale. On personal front, they aim to provide the emotional support for the entrepreneurial team. Lastly, they become a sounding boat for ideas to make sure that an entrepreneur remains focussed on his/her goals," shares Raut.
Evangelists have traits of an artist. They pursue their interest in depth and master it to a great level. They are born communicators and make others believe in their ideas with conviction. "Most successful evangelists have committed focus with singleness of purpose to achieve their goals without getting distracted. Evangelists are quick to identify, capitalise and leverage any opportunity that may come in their way. They will see and take benefits of opportunities to network, promote and brand their subject matter interest areas," concludes Mehta.
8 Key Traits of an Evangelist
1) Change Thinkers
2) Identifies, Capitalise and Leverages opportunities
3) Go-Getters
4) Born Communicators
5) Disrupts the Status-quo
6) Believes in a cause or an idea
7) Committed Focus
8) Brands and promotes interest areas
5 Key Values of Evangelism
1) Trust: Evangelists are the biggest catalysts for building the trust around the products they believe in.
2) Credibility: Evangelists will demonstrate genuine interest in customers through honest discussions after realising the products' worth.
3) Influence: Evangelists create an army of influencers, advocates and brand ambassadors for the product.
4) Community: A successful evangelist will herd influencers together to form an active community.
5) Advocacy: Evangelists are the first and best advocate of the product. They become the official face of the organisations' values and belief system.
Source: Internet