5 Reasons Your Business needs a Mentor
A mentor does not only give guidance but also shares a special relationship which is a reward in itself.
Tags: Business Mentor
BY Entrepreneur | Nov 17, 2009 comments ( 0 ) |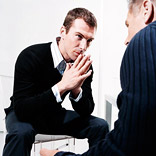 A mentor is someone with more business experience than you, who supports and guides you from outside without any direct involvement or interest in the business and most importantly, serves as a trusted confidante over an extended period of time, usually free of charge. Apart from advising, they will always be there in every step you take. Rahul Jain, CEO, Business Coaching India says, "Good mentors are those who become the mirrors of the business owners. Mentor by default means someone from outside who has no vested interest."
Where do you get mentoring from?
Your own networking efforts can get you the most cherished mentors for your business. You may have met the person at an event or through someone else's reference. Approach the person right away and a simple request for advice can turn into a long term relationship, you will value. An incubation cell is another option which is gaining popularity in India. Most incubators are separate faculties' setup by Engineering or management colleges and they charge a nominal incubation fee. There is a team of mentors, experts in their own areas who hand hold you in the initial stages of your venture. Incubation is also being provided by organizations such as TiE (The Indus Entrepreneur), BYST (Bhartiya Yuva Shakti Trust), NEN (National Entrepreneur Network).
5 Reasons you should have a mentor
1. A Relationship, Rewarding in Itself
The mentor-entrepreneur relationship is not based on any personal motive. It is all about sharing experiences and giving the right guidance. It is a long lasting relationship which gets matured over the time and an entrepreneur finds his mentor a valuable resource he can rely on in all stages of his business. The mutual understanding between the two parties helps in building mutual trust. However a true mentoring relationship works in both directions. A mentor gets to learn new ideas from you just as you learn timeless wisdom from him.
2. Mentors Create Accountability
As an entrepreneur, you must have realized that all your department heads report to you. But what about your accountability? This makes your position weak. Often business mentors will ask you tough questions so that you're on track and make you realize where you stand. "Mentors' core function is to keep you honest, focused and accountable so as to resolve the unresolved critical issues," says, Ravi Narayan, CEO, Mentor Square.
3. They help you discuss, share and brainstorm
Being an owner can be a lonely job, a position with so many limitations that you cannot talk or share with anyone. A mentor acts like a friend with whom you can talk and discuss your strategies, doubts, apprehensions and in return he would provide expert opinions, helping you to solve your problems and turn them into opportunities. According to Rahul, "Mentors basically help owners to do brainstorming and act as bouncing boards for them." Mr. Brijesh Sharma, Manager, BYST says, "Mentors with their invaluable experience and outside perspective are able to serve as additional brain and thought processes."
4. Help you see the Bigger Picture
You have to keep learning, if you have to grow. But as an entrepreneur you are so much caught up with operational work that you don't even have the time to think about the broader perspective. Mentors act as outside observers who view the entire business environment from a neutral perspective and so are well placed to view the future opportunities and challenges for the business. Ravi says, "Being an outsider, a mentor is not entangled within the daily operations and so has full time to visualize and strategise the solutions to your company's core unseen problems."
5. Give you a valuable network
Your mentor, being an experienced businessperson, is likely to have an extensive network, and can offer you access to far more senior decision-makers than you currently have. They will be far more willing to open up that network to you than some casual acquaintance from a networking meeting.