When Crowd (sourcing) Commands
Small and medium enterprises are increasingly relying on consumer sensitivity for cost effective strategies
Tags: Crowdsourcing
BY Entrepreneur | Sep 23, 2010 comments ( 1 ) |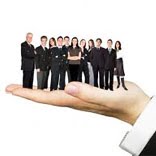 Crowdsourcing is the act of distributing tasks, otherwise performed by agencies, to a large group of people or community through an open call.
Technological advances are allowing cheap consumer electronics to plug in the gap between professionals and amateurs. As such, companies are able to take advantage of the talent of the public. The term is a hit with small and medium businesses as it leverages the mass collaboration enabled by web technologies to achieve business goals. The most common channels used for crowd sourcing are videos, blogs, You Tube or social sites like LinkedIn, Twitter, Facebook etc. Sometimes, companies also involve cash prizes or some other form of rewards for maximum consumer participation.
How Crowd Sourcing Works
Crowdsourcing is more of an art and hence the technique differs from business to business, technology to technology and from people to people.
Akhilesh Bali of Mithaimate, an e-mithai shopping site, informs," That instead of going by the books we arrived at our own technique through experimentations gradually. We replicated e-mithaimate into facebook. Then posted one mithai, say Rasagulla, on facebook that travelled from wall to wall whenever someone accessed the post. Soon, it became viral until it reached a plateau from where it couldn't go further. Then we introduced more mithais using this technique and we have been able to generate 4,000 followers since then".
He further adds that, "these sites are becoming popular as it is but second nature of people to tweet or linkedIn but at the same time he presses that it is more important to keep them engaged and glued to the website. A few conduits like posting a contest, a recipe or a video works. Whatever the medium, it should be eye-catching to attract the visitor. Moreover, when the visitor knows the recipe, he can easily relate to the product".
Consumers and Crowdsourcing
Mostly, FMCGs are resorting to Crowdsourcing to get a correct idea of the consumer's next taste. Other industries are also likely to follow suit after them. The benefits of crowdsourcing vis-a-vis services of an ad agency are manifold:
It works out cheaper in comparison to the costs of a big agency, hence best suited to small and medium companies.
It gives a personal feel to the consumers as it massages their ego. Feeling like a part of the big think- tank, the customer is more likely to stay loyal to a brand he can identify with.
We can find a ready exemplar in Frito Lay's, which is laying a lot of importance on launching new flavours and its consumer engagement activities are seeing a new high. The effervescence of their effort can be noticed in a series of promotions and advertising campaigns where one can witness a distinct bond between the products and the consumers.
Ruchira Jaitly, VP, marketing, Frito- Lay justifies, "The endeavour is to increasingly innovate products and look at consumer insights seriously. The consumer should feel connected with the product and off late our advertising campaigns are directed towards this motive."
And to cash on the taste of consumers in the country, Frito- Lay has launched an array of new Indian flavours such as lime and masala masti and international flavours such as Spanish, American and Caribbean.

The last advertising campaign ' Give Us Your Dillicious Flavour', is also focused on involving the consumer and aims at getting the next chip's flavour from him.
Akhilesh Bali maintains that, "Crowdsourcing is almost free for them as many of their consumers come from Facebook". Adding further, he justifies, "It is not a make or break situation for the Industry but at the same time it is very crucial for an emerging business like ours who cannot pay for advertising at this juncture".
Even Saurav Padhi, Director Brand Services, Law and Kenneth agrees, "Comments through social network sites like Linkedin, Facebook, Blogs etc. do help in knowing consumer preferences and help formulate strategies".
The Flip Side
Here's a word of caution if you are implementing crowd sourcing as a brand promotion technique for your business. The activity is largely urorganised and time consuming. The crowd may not always be available to give their feedbacks, and any negative comments may mar the image and blight of your very purpose of interfacing. So, while you may save on the expenses of the agency, you run the risk of falling on the wrong side of the fence whilst proving the maxim, "There are no free lunches in life"; Indubitably, one has to pay one way or the other.
Please add your comment
Antony
September 21, 2010 at 9:47 am
Wonderful article on Crowdsourcing.
Reply |