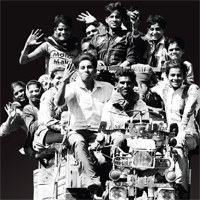 Last decade has already seen India Inc. generating wealth from the rising aspirations of 8.5 million consumers based in 6.5 lakh villages. The rural consumption pattern is now increasingly mirroring that of urban market with burgeoning income and aspiration levels. This has made rural India a breeding ground of opportunities for not only India Inc., but also for new entrepreneurship as well.
Abhinav Kumar, CEO and Founder, Evomo, always wanted to get into motor sports industry to become a Formula 1 engineer abroad. While working with an automobile company in Gurgaon, Kumar visited the rural areas of Bulandshahr city in western Uttar Pradesh and this turned him into an entrepreneur. What caught his attention was the way people used local makeshift trucks as passenger and commercial vehicles.
The trip led Kumar to create a very low cost utility vehicle called Saavaj at Rs 1.8 lakh (base version) that he boasts to be the cheapest one in India in commercial vehicles category. He started Evomo in early 2009 and got incubated in National Institute of Design (NID), Ahmedabad, and raised Rs 5 lakh initially from NID. "My trip to Bulandshahr changed everything. People out there were using these jugaad vehicles, which were not even legal. Being an engineer, my idea was to empower those people. We understood that if we could change the transportation system, we could change many things like more kids especially girls would be able to go to school, people would have timely access to healthcare and 25 per cent of fruits and vegetables, which couldn't not reach to these rural people, would be accessible," says Kumar.
Similar inspiring story is of Umesh Malhotra who spent nearly 10 years at Infosys and even formed an IT start-up called Bangalore Labs that he sold in 2002. Looking for a break from IT, as Malhotra says, he started working with children in 2002 and set up a library under Hippocampus Children's Company to promote reading habit among them. Later under the Hippocampus umbrella, Malhotra forayed into setting up of education centres for rural India in June 2010. Today, the group operates 128 preschools in four rural districts of Karnataka and has around 5,000 children.
The Annual Status of Education Report (ASER 2012) for rural India has exposed the mess that rural education is in – Only about 50 per cent of Class 3 students could read a Class 1 text in 2008. This called for a huge initiative to be taken by companies like Hippocampus Learning Centres. "The quality of education is poor in rural India, and there is an opportunity to provide higher quality education. Our curriculum and training address this big need. Parents understand the value of joyful learning among children with quality teachers and curriculum," says Malhotra.
Opportunities Galore
There are many success stories of entrepreneurs who built their businesses around the large untapped rural market. This growth is backed by several factors – rising industrial development that has increased the purchasing power of people and better procurement prices for farmers that has got rural people with more money. The rural consumption has seen shift from people using basic necessity goods to lifestyle products, such as mobile phones, two-wheelers and TV sets.
"There is a huge requirement of goods and services for the bottom of the pyramid (BoP) group's people. Their income levels are going up and supply chain is getting more efficient. Their consumption and awareness levels are also growing because of exposer to electronic media and cell phones. These factors are creating opportunity for new players to offer products and services to them," says Raghav Kanoria, Co-Founder and Director, Calcutta Angels, who has invested in Kolkata-based iKure Techsoft that has set up affordable rural health centres in West Bengal at a tremendous klip.
"The aspiration level of the people in rural India has gone up. For example, earlier people do not pay much attention to their health. With the emergence of health awareness, these people are switching to better healthcare services," says Former Oracle employee Sujay Santra, Founder and CEO, iKure Techsoft.
According to a FICCI report, 47 per cent rural people finance their healthcare needs by loans or sale of assets or both. The demand and supply gap for affordable healthcare services is wide in India. In rural areas, the number of private nursing homes and government centres is less compare to that of patients'.
Started in 2010, iKure raised a total of Rs 1.6 crore from Intellecap and Calcutta angels and Japanese investor ARUN LLC for setting up of centres. The 27 iKure centres across West Bengal charge Rs 90 for doctor consultation and medicine, and in urban areas, Rs 300-400 is charged for the same service by the firm. "iKure has set up centres in very low-income areas where even basic healthcare facilities are not available. Apart from his and his team's passion, Sujay Santra's experience in Oracle and knowledge in healthcare drove us to invest in iKure," adds Kanoria.
Apart from healthcare, education and transportation, the other big market offering tremendous value is solar energy as around 32,000 villages still live in darkness. Solar, as a viable alternative to expensive traditional forms of power, is significantly low cost.
"Some of the other emerging areas are of renewable energy distribution related companies such as solar, dairy products distribution and efficiency, organic farming and water companies," says Kanoria.
Barriers to Growth
While administrative challenges, such as lack of adequate infrastructure and low literacy level, that exist on the ground, the operational issues, such as reaching out to consumers, marketing, supply chain and distribution, cultural differences, acceptance of product or service by consumers and talent acquisition serve as major entry barriers. In most cases, lack of information or market data also pushes back businesses entering rural market as market planning, product localisation and tweaking its prices depend a lot on that. "Data availability is a big challenge because you don't have land records or IDs of people. Also often there is a negative mindset among them towards anything new because of cultural or traditional reasons. So if you want to change that, there is a road block," says Kanoria.
Kumar spent considerable time cracking this challenge. He studied a lot and spoke to people in almost 30 different towns and villages across Gujarat and six north Indian states. Since 2009, Kumar worked on product development, market research and R&D until March 2014 when the manufacturing of Saavaj trucks began. "We created a database of everything that was available in the market, right from parts which are easy to repair to mechanics who are available on the ground. We are trying to tap these mechanics to create a viral network of growth. Word of mouth is the best way to market the product and create awareness," says Kumar.
The company manufactures trucks on micro factory retailing (MFR) model where trucks are manufactured in a micro factory and sold from there itself. Evomo has five dealerships, each in West Bengal, Bangalore, UP, Ranchi and Gujarat to resolve the distribution issues. The company will be upgrading the dealers to manufacturing franchisees to manufacture Saavaj under Evomo's license while the quality and supply chain control will rest with Evomo.
iKure, on the other hand, partnered with National Bank for Agriculture and Rural Development (NABARD), Rotary International (international service firm) and local NGOs to set up its rural health centres and build a brand through increased acceptance among people because of its low-cost healthcare services. 
"The rural market population is spread out. So we have to cover a large area to reach to maximum people. There has to be a lot of community engagement to understand their psychology and lifestyle and then win their faith in products or services. Putting huge billboards and banners will not work," says Santra.
Entrepreneurs need to sell their services/products at low price to establish themselves in a rural area and then gradually move up the value chain. The price of the products or services offered has to be tweaked to bring it down to the range of rural people.
Moving Ahead
Going forward, iKure Techsoft has already tied up with several international varsities like Santa Clara and Michigan University for research work and case studies. The company will soon be expanding in Orissa with 500 centres by end of 2017 and to East Africa. Evomo also has plans to get 50 dealerships across India in the next two-three years and will soon foray into Africa. Moreover, Hippocampus aims to add 500 centres in next three years.
Needless to say, the future of rural market is bright. The rate of growth in rural market can be at least 50 per cent every year. What will drive the rural market growth by helping companies defeat geographical boundaries is the Internet as currently around 32 million rural people already use mobile Internet. This again has tremendous business opportunity for e-commerce players.