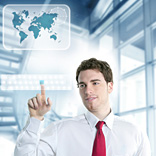 Rohan Thakur, a distributor in the textile business felt handcuffed. Crucial information related to order and delivery would not reach him on time. "The kind of market that we operate in requires us to be very fast. Traditionally, we used telephone talk, fax or written paper with distributors/agent and dealers to process the orders. Communication and transmission was not efficient,' he says.
Technology has been one of the limiting factors for most small businesses; especially when it operates in a heterogeneous, network-based environment. Complex and lengthy supply chains add more to the woes of such business owners. To address the needs of such businesses, a mobile major has come up with a easy-to-use viable solution. SMBs can use mobile handsets to streamline complex and time-consuming business processes. They can provide their business partner relevant information anywhere, anytime – without investing in expensive and cumbersome IT systems.
How the service works?
It is a mobile order management service that lets you place orders and access order related information via your mobile handset or computer. The solution can enable three-way communication:
Manufacturers and suppliers, distributors and stockists can utilise its full functionality with just one PC and web based user interface. Businesses can also integrate business information to their existing IT system which are traditionally used by the businesses for accounting, inventory management and invoicing etc, providing scalability to their already invested infrastructure and protect the investments already made by the business in IT.
Field sales force that is constantly working in the market is able to use the system conveniently through his mobile handset.
Dealers and retailers at the end of the distribution chain will receive the relevant information directly on their mobile via SMS.
Easy-to-use solution
The service is simple to configure and use. And one does not need to invest in high end, expensive phones to mobilize their work. It is compatible with a wide range of Nokia GPRS enabled mobile phones.
How to install?
Nokia Tej charges a fee of Rs. 1250 per month for portal access and rental of monthly Rs. 550, which is not a big amount for secure data transfer to only those who have access to your order related data.
Advantages of the service
Mr. Sandeep Nagpal, Head of Business Program –Nokia Tej says, "We believe that Nokia Tej is the ideal service for any small to medium business owner who wants to improve their productivity and profitability. It is particularly effective for businesses with complex supply chains, such as manufacturing, textiles or fast moving consumer goods. The service was developed in India where our product team worked very closely with various businesses and understood their pain points and then our pilot confirmed and reinforced that users shortened sales cycles, reduced inventory and working capital and increased repeat business."
Some of the advantages of using the application are:
• Speed and accuracy: One can send sales data to the back office faster through the mobile application, leading to shorter sales cycles.
• Reduction in time required for order tracking: Order tracking time can be considerably reduced from 75% to 25% as field forces have access to updated information on their mobile phones at all times – allowing people more time to focus on the business.
• Savings in working capital, improved production planning and inventory due to visibility of relevant information at all times.
• Scalability: The 'pay as you go' model also provides scalability as the business grows without having to invest Capex.
Who can benefit from Tej the most?
If you have your sales force and distribution channel spread across the country and deal across verticals including FMCG, Textile/Apparel, Consumer Durables, Ready-made garments (RMG) and in Pharmaceuticals in multiple locations, you can benefit largely from it.