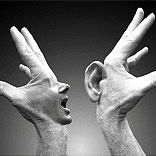 May be this is the oldest and the most worn out advice that you have been getting since you started your business but it is the single most important thing you should do as a business owner.
Lend an ear to your customers. Maintain contact and speak with your clients from time to time. An advantage of a small business is that your client list might not be very large and you can give personalised attention to all of them. If possible speak to them yourself or appoint someone to do so. If you are appointing someone to do so, there are chances of you not getting the right feedback.
So, another important way of getting the right feedback is survey. When customers answer a survey, which has direct and specific questions in it, chances are that they would be able to write honest responses. They would talk about what you exactly want to know from them.
You can send the survey either as a hard copy or via the web, whichever way the client prefers.
What to ask?
The questions of a survey will depend on what is you product or service. But there are some general questions that you can include like:
What do you like about our product or service?
How do you use our product or service?
How can we improve our product or service?
Is there anything we can do to improve your satisfaction with our product or service?
Are there any other services or products we could offer that you might be interested in?
You can also ask your clients to rate your product or service on a scale of say 1 to 10. Make sure to include open ended questions as it would give you a better idea about the satisfaction level among your clients.
Reviewing the survey is equally important.
Once you get the feedback, make sure to go through them carefully. You should document the responses. This will help in better analysis and keeping track of your progress when you do your next survey.
After you have analysed the feedback you can get on your toes to work on improvisation.
An important part of getting feedback is to take criticism positively, analyse it from different points of view and look at things from an independent observer's perspective. Criticisms are not personal and most of them have a reason, try to go deep into the roots of the problem rather than looking at it from the face value.
And yes, do not forget to thank your clients for their valuable time in responding!