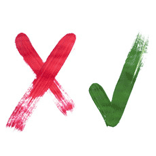 If you are an entrepreneur, you've probably got outstanding ideas and projects in abundance, and even more popping up everyday! Do you face the problem of getting them completed? It's not that you have a shortage of resources to complete them; probably you are concentrating on too many projects and trying to convert each one of them into a reality. The solution is--- Focus on a handful at a time. Manage whatever you take up, well. Here our some of the ways to manage projects.
1. Keep a running project list
Keep it in one place, where you can get to it anytime. Use a notebook, whiteboard or a MS word doc, to get the ideas out of your head; it's like brain dump. Once you have the list, go back and put a star against the most urgent projects. Sit down and think of every project you want or need to do, and get it written down. The other important thing to remember with this list is to revisit it occasionally, crossing off the completed projects and adding new ones.
2. Mind map or chart out projects
Mind mapping is a great way to get things down on paper. It's very simple, just take a piece of paper, write down the name of your project in the center and then list all the tasks associated with it. Once that is done, pick each and every task and give a deadline for its completion.
3. Do less, get more
Senior officials or entrepreneurs are loaded with lots of work and so the key here is focus. It's been proven that multi-tasking is not the best idea, and so while handling projects one should keep it to bare minimum i.e. the most important in order to keep the concentration intact. This allows you to really focus and not only get the important things done, but do them to the best of your ability. You have more creativity when it's not spread out so vastly. Focus on a few projects, track them and see the results for yourself.
It's crucial
The tips might appear trivial but they are crucial for your business's well being. Getting used to these methods may take some time initially, but when you start implementing the tips offered, you will see the change. If you operate in a organised and thus stress-free  environment, your mind and attitude will get set to make things faster and effective.