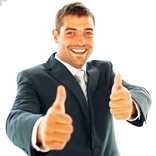 Entrepreneurs start a business because of their passion and with a mindset of getting financial and personal freedom but this does not exactly happen when it comes to practical implementation. Mostly, business owners get so much tied up with each and every aspect of their business that they not only get time for themselves but also for thinking about their business, which is their prime role as a business leader.  Here are some steps to run your business smoothly.   
Focus on deeds not the time
The traditional way of associating hard work with long hours in office has become redundant or obsolete as nowadays hard work means smart work i.e. taking the right actions or decisions, which produce favourable outcomes. Doing any kind of hard work is an individual choice and the true measure of it is your own conscious, which tells if you have given your best to achieve your goal. You can succeed as a business owner by taking thoughtful, action-oriented steps and inventing new strategies to stay ahead of the competition.
Eliminate unproductive tasks
Being productive does not relate to becoming a one man team. You need to loosen your self out by concentrating only on the vital activities and thereby eliminating tasks that pile up as an unnecessary burden. If your time is being utilised in petty work like arranging your desk or continually refining your filing system, consider eliminating one of the tasks for sometime and see the outcome. You may find that you're still able to achieve your goals, but with less stress.
Give Yourself Time
Generally, entrepreneurs have a tendency to keep everything in their control because of their hesitation in trusting others and handing over some responsibilities of their business. This in turn has hit back business owners who have stopped spending time on themselves, doing what they love to do as they are bogged down with their day to day business duties. The most feasible way for you to come out of this is by listing down activities which are both time-consuming and not so important. Then identify your reliable employees whom you can delegate these tasks or even outsource it even if it costs a little bit. As the leader of your business, your key role is to analyse your business, have a strategic visions about its growth and on the whole spending valuable time developing and fostering your dream.
Revisit Your Commitments
It is very important that you keep yourself updated with the tasks in hand. Complete each task before moving on to something new and if a particular undertaking is worrying you, make a note of what all has to be done and assign a timeframe for it. This allows you to quickly revive your momentum when you return to the task.
Work Passionately
Passion is the most essential ingredient for success without which even hard work doesn't deliver desired results. So instead of working day and night, ensure that each of your actions takes you forward and you'll realise that your hard work will be more productive and less stressful.