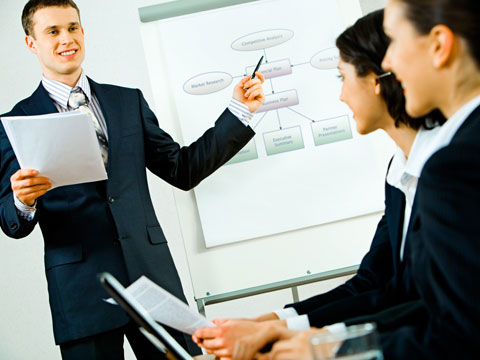 Managing strategy is all about how entrepreneur/managers analyse their organisations and develop and implement strategic plans for the overall development of the business. Entrepreneurs can start with the understanding of their firms' culture to carrying out strategic analysis, to implementing it, and measuring and evaluating its success.
The Checklist Series from the Chartered Management Institute UK provides expert guidance for managers/entrepreneurs at all stages of their careers. Managing Strategy offers a series of checklists designed to help managers/entrepreneurs analyse their organisation, develop and implement strategic plans and action. Here, we cover three action-oriented checklists for our entrepreneur/manager reader base – Understanding Leadership Styles, Brainstorming and Choosing a Growth Strategy.
Understanding Leadership Styles
Everything from what an entrepreneur says, to how he says it, to how he leads with example, to how he keeps his reputation, etc, greatly affects his relationship with his colleagues and co-workers. There can be many leadership styles from where entrepreneurs can get their learning from or get inspired, but staying true to their original personality is what gives them the edge.
A difficult leader may be bad for the organisational growth because he will end up discouraging employees. As an entrepreneur, you need to invest in your staff to get the best out of them. A good entrepreneur will know how a poorly trained employee can cost the company even more that what he is worth.
Motivating employees is also an important component for ensuring your business's growth. That can make all the difference! If you expect your employees to perform as you want them to, you have to work toward motivating them. While taking a major strategic decision, take care to inform and invite suggestions from the lowest in the hierarchy.
Employees feel a sense of togetherness when they are shown that their suggestions are valued. Entrepreneurs should be flexible in their approach towards their employees and should not restrict themselves to just one style, because every individual you are going to work with is different from another.
Brainstorming
Brainstorming is a technique undertaken by various organisations to help solve organisational or other operational issues or to help encourage creative thinking or to generate an idea. There are three stages of brainstorming – preparation, session and evaluation. Starting from the preparation stage, entrepreneur/managers should first select the problem/opportunity to be discussed about or brainstormed.
The next step should be to define in your mind the structure it would have, like what exactly you are looking for the participants to answer, other than the discussion's aims and objectives. Choosing the facilitator comes next. You have to choose someone who everyone can openly address to, someone who is open about his views and knows how to engage a group of participants. He will have to keep it interesting.
Then, it is the location! Where you will discuss is another very important factor one should consider before initiating a brainstorming session. The session stage of brainstorming focuses on the actual topic or subject that needs to be talked about.
The evaluation is the last stage and it entails the scrutinising bit and picking up a person with most votes. Other than that, it will also help you see whether the solution zeroed in on is feasible. Entrepreneurs should discourage dominant individuals, do most of the talking and appreciate the quiet ones to come forward so an equal flow of opinions and ideas can come to the table.
Choosing a Growth Strategy
As the most important person of your organisation, you need to start by understanding the major growth strategy options. Growth is not limited to going national or international, but in its strength to be dynamic and adapting to the changing market scenarios.
You need to start by building your brand. It is not only the size that will make you dynamic, but a right mix of quality, reputation, prestige and profit margins. You also need to figure if you want to focus on the one thing that your brand is known for or diversify into providing various other products or services.
Whatever the decision, the technological developments of the market need to be taken into account when growing, other than selecting a growth strategy. While choosing a growth strategy, understand that change is inevitable and your business will have to adapt to the changing market scenarios.
Nurture your business and know if you need innovation or use of new technology in promotions and customer relationships. Pay attention to communication, teamwork, your office culture, and most importantly, funding that you will need to power your growth.