Beat your Competition!
If there is a competition, there is a challenge; and accountability, hence enhanced productivity. Competition is healthy, learn to beat it.
Tags: Beat your Competition!
BY Entrepreneur | Apr 23, 2010 comments ( 0 ) |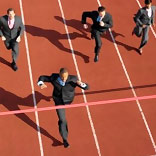 Today, customers have become extremely choosy and aware, with exposure to a plethora of options available in a product category. Beating the rivals has become a Herculean task for business owners. Monitoring the market and competitors move has become mandatory in order to increase sales and market share. In short, running an enterprise is no longer a smooth sail for an entrepreneur as there is a tough competition.
Here are some techniques to beat the competition.
Know your competitor
The most fundamental strategy to take on competitors is to know about them completely in and out. You need to keep tap on the business strategies, market moves, and their target clients and above all understand the marketing and promotional plans. It is only when you have a detailed insight on these details will you be able to assess your position and come up with an action plan.
Highlight your USP
Once you know everything about your competitors, you can identify what you offer customers or clients that are unique or special. Revisit your current offerings and if required make necessary changes to your product or services, bundle in additional features but most importantly find new marketing strategies to reach your clients and other prospective clients in a unique way.
Reach new demographies
If you think that you have reached the saturation point in your particular market that you have been catering, go ahead and explore outside to tap in new clients. For this you may have to introduce new variations in your product line or services that will attract new potential customers which will lead to stimulate sales. You can also take help of new mediums to target audiences who like your product or service with minimum changes.
Offer more value
Traditionally the easy way to cut competition is by discounting prices but this method cannot be used for all types of businesses as it may even create a negative impact. For example if you offer a service priced at the same rate as your competitors and all of a sudden you cut down your prices it may make you look cheap and create a hesitation in the customers mind about your company and the services it provides. A better idea is to offer something of additional value that your customers will find tempting.
Increase your sales channels
In today's time sticking to one sales channel is detrimental as customers are exposed to numerous options or platform to buy from. Adding another channel such as online sales, or going for multiple mediums will not only give your customers more choices and allows them to shop more often at their convenience but also enhance the visibility of your company and products or services which may get you new clients or market.
Have regular customer feedback
To remain highly competitive, you must understand what your customers want because today your customers' needs and preferences keep changing every no and then. You must try improving your quality of interaction with your customers so that you get to well before others what's going in peoples' mind. In addition, be sure to initiate regular surveys as well as solicit ongoing feedback via your website.