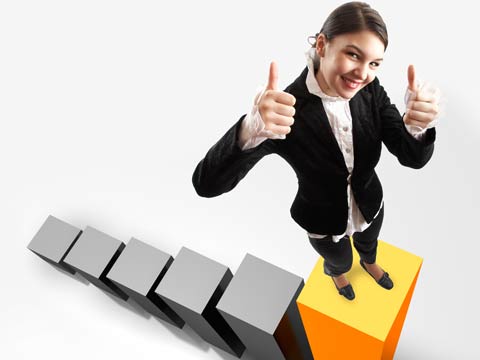 Being a woman, when Rashi Choudhury, Co-founder and COO, LocalBanya.com, ventured into entrepreneurship, she faced many challenges in terms of building relationship and getting work done with some employees. She worked with people from all strata of society and realised that it is a mindset challenge to get people to accept a woman in a position of authority. But her courage and family support helped her face all the obligations of society and emerge as a successful woman entrepreneur.
"I've always wanted to be an entrepreneur. I come from a family of entrepreneurs, and so it's the mindset I've grown up with," shares Choudhury. The online store contains 14,000 products including everyday essentials like salt, rice, flour, sugar and pulses, etc.
Women entrepreneurs have a crucial role to play in building a strong Indian economy. It creates a huge difference in terms of contribution towards the society, boost economic independency of women and reduce various discriminatory practices prevailing in the society.
But there are certain blockages which prevent women entrepreneurs to grow like social stigma and various taboos which dominate the entire society. Now the concern which emerges out of all these is - Why women are not working? Why this one brain is lying at home, managing the households' chores?
No matter what policies and laws are tailored for women, the mindset towards women must change for their empowerment. The power of education and encouragement should be inculcated in the minds of women to help them climb the ladder of success.
Women power
Women entrepreneurs, as opposed to men peers, make significant contribution towards the well-being of the family. "Women entrepreneurs put 90 per cent of their earnings into education, healthcare and nutrition of their family as opposed to 30 to 40 per cent done by male entrepreneurs. Be it a mother, sister, wife or daughter; once they step in the business world, they are willing to give back to the society and economy. So that is the power of women entrepreneurship. It creates opportunities and environment for more women to get into entrepreneurship," says Raman Bajaj, MD, Educomp Childcare Pvt. Ltd.
There are many aspects in which women are one step ahead of men – women are believed to be good listener, substantial, emotional, build long term relationships, have the ability to prioritise and are detail oriented in nature. They can manage family, elders, home and businesses single-handedly without failure.
Leaving a mark on business world
Earlier, women preferred to enter the business domain in the late 40s because of their thrust to gain success in their previous career life. But now, the scenario has changed significantly in the past few decades, with the increasing number of women more likely to enter into the early stage entrepreneurship. Experts say that 40 to 50 per cent of all the small businesses are run by women in all the developing countries.
Starting with Rennu Dhillon, founder, Genius Kids Inc & Genius Kids Development Inc has developed numerous learning sites and mobile applications for children and families to access excellent learning programmes. She believes that everybody is born genius. Brilliance and academic skills are not based on IQ (Intellectual Quotient) and therefore, with the help her organisation, she allows every child to live their dreams. Currently, Genius Kids has 300 students.
"I have done it single-handedly as a single mother. I was married at the age of 24 and got divorced at the age of 28. If I can do it without any support, no family, no parents around, and if I can do it with two little babies, I am sure any women can do it," says Dhillon.
Meet another daring woman in the business world, who has encountered all the criticism of society and emerged as one of the audacious women entrepreneur. Lisa Srao, founder, I Brands Beverage Ltd, a liquor brand with three flagship products Three Royals, a premium segment whisky, Granton (flagship product) - a value segment whisky and Rum 99 - a Jamaican flavoured dark rum.
"Since childhood, my father has always encouraged me to do anything that I wanted to do. He is the one that engraved me and my sister with the thought that a woman can achieve anything if she is driven to do it," shares SRao.
Saumya Vardhan, Founder & CEO, Shubhpuja.com, a one-stop shop for all religious and spiritual needs, says: "My working with KPMG London and Ernst & Young London was a huge learning curve for me that shifted me from finance to religious industry. I always wanted to do something unusual that could contribute to the betterment of the society." The portal offers astrological and occult science consultations with highly qualified PhD level astrologers and numerologists.
The path of women entrepreneurship
One of the crucial challenges that women entrepreneurs face in bootstrapping their startup is –gender discrimination. "I do not believe in gender discrimination, we all are same. India's population contains 50 per cent of men and 50 per cent of women, but the society is still being dominated by male. Society should change their mindset and behaviour towards women," says Benu Sehgal, VP and Head, DLF Utilities Ltd-Saket.
While sharing her experience on seeking loan from one of the bank for her venture, Rajni Aggarwal, President, Federation of Indian Women Entrepreneurs, who is also the founder and MD of Sears International Pvt. Ltd., says: "Way back in 1982, when I attempted to start my own venture, I went to one of the banks for loan application. The bank managers asked several questions like – where is your management, who are your guarantors, and so on. Then I said that I am only the management and I do have the confidence to return the money. Thus, the bankers should only look at the business rather asking for management and guarantors."
Recently, in an interaction with Economic Times, the women and child development minister Meneka Gandhi explained that when a man wants a loan for a business, he goes alone, not with a group. But, the idea of women having to take along 10 other women to seek loan is degrading. Why should we do that to women? Sometimes family and societal obligations also pose challenges for a lot of women entrepreneurs in the country. Moreover, balancing between the work and family is considered as one of the difficult tasks, but making hue and cry will not serve as a permanent solution. Rather one should learn how to tackle the both. It is a universal fact that if you want something, you have to lose something.
"The main challenges that I faced as a woman entrepreneur has been in my interactions and working relationships with some of the staff. We work with people from all the strata of society. Sometimes, it's a challenge to get people to accept a woman in a position of authority and in these cases, getting the work done becomes slightly difficult," tells Choudhury.
Way out
Now the time has come when the government should come forward and enable policy reforms for women and introduce various initiatives in a bid to promote women entrepreneurship in India. To address the same, Narendra Modi led government has taken a decisive step to put an end to the Self Help Group Scheme (SHGs) for women, an initiative undertaken by the UPA led-government during their regime.
Self Help Group is a homogeneous group of micro entrepreneurs with affinity among themselves, voluntarily formed to save whatever amount they can conveniently save out of their earnings and mutually agree to contribute to a common fund of the group from which small loans are given to the members for meeting their productive and emergent credit needs at such rate of interest, period of loan and other terms as the group may decide.
"There are a lot of projects under Uttarakhand government for women empowerment. The objective of these projects is to provide the handholding and training to the women," asserts Rajni Aggarwal, President, Federation of Indian Women Entrepreneurs.
Speaking on boosting the self-confidence of women, Sehgal says, "Low self estimation should be addressed for women. Women should be more confident and prepared towards achieving their goals because they are no different. We should stop discriminating between male and female, as we all are human beings first."
A recent report released by Small Industries and Development Bank Of India (SIDBI) mentioned that in India, the Micro, Small & Medium Enterprises development organisations, various State Small Industries Development Corporations, the Nationalised banks and even NGOs are undertaking Entrepreneurship Development Programmes (EDPs) and addressing the needs of potential women entrepreneurs (who have inadequate educational background and skills) in bid to promote the women entrepreneurship.
Despite of all these initiatives, there is a long way to go for a lot of women and classes of society because women tend to undervalue their own potential. "Do what you feel is right for you. Failure is a part of life, but it's important to learn from it and move on. You have a lot to offer, so don't hold yourself back and don't let anyone else do that either," concludes Choudhury.