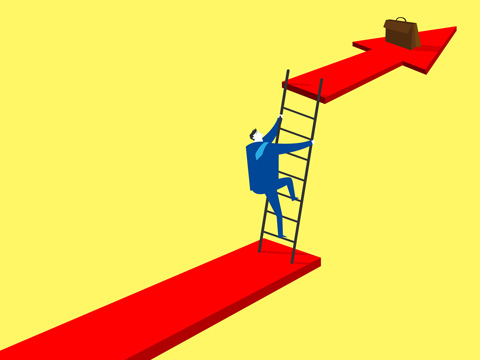 Start-ups are new business ventures that are carried out either by single individual or in groups. Apparently, entrepreneurs are those who run these start-ups, which involve tremendous risks in terms of financial issues, apart from creating innovative and successful products or services.
Start-ups are risky in nature, but a successful entrepreneur tries to minimise risk and promote business venture through in-depth research, proper planning, and appropriate skill development. One of the main features of being a successful entrepreneur is his/her flexibility in adapting to recent trends, market growth, modern technologies, dynamic rules and financial environments.
On 28th February 2015 during his budget speech, current finance minister Arun Jaitley said that "If we really want to create jobs, we have to make India an investment destination, which permits the start of a business in accordance with publicly stated guidelines and criteria".
FM clearly suggested that he is going to appoint a special committee that can oversee the possibility of replacing the existing multiple layer permissions which can be replaced by a pre-existing set of mechanisms that can facilitate the ease of doing business for entrepreneurs in India. Keeping the promise in line, government has formed a panel on 7th April 2015 by Department of Industrial Policy and Promotion (DIPP) to simplify the regulations and ease of doing business.
Over the years, entrepreneurship has proven to be critical to India's growth and development, given its increasing significance and visible impact in wealth-creation and employment-generation. As per The EY G20 Entrepreneurship Barometer 2013 report "The power of three: Together, governments, entrepreneurs and corporations can spur growth across the G20", India ranks 11th among G20 countries in Access to funding category. During the survey, 66 per cent of Indian entrepreneurs have said that access to private equity has improved over the three year period from 2008-2010.
Standing 11th in Entrepreneurship culture, 69 per cent of entrepreneurs have mentioned that Indian environment promotes culture for entrepreneurship, against 57 per cent among G20 countries. Tax and regulation for entrepreneurial activities in India is not conducive and the country stands at 19th position among G20 countries.
In terms of education and training for entrepreneurship, India ranks at the last, but 70 per cent of local entrepreneurs feel that access to unofficial training networks have increased over the three year period. About 70 per cent of entrepreneurs have mentioned an improvement in coordinated support (through informal entrepreneurial networks) and the country ranks 5th in this category.
According to World Bank's 2015 report on Ease of doing business on the basis of 11 defined parameters, based on the data of two cities i.e. Delhi & Mumbai, India's ranking is given in the table below:
India's position on Ease of doing business

| | |
| --- | --- |
| Indicators | Rank (out of 189) |
| Protecting Minority Investors | 7 |
| Getting Credit | 36 |
| Registering Property | 121 |
| Trading Across Borders | 126 |
| Getting Electricity & Resolving Insolvency | 137 |
| Overall Ease of Doing Business | 142 |
| Paying Taxes | 156 |
| Starting a Business | 158 |
| Dealing with Construction Permits | 184 |
| Enforcing Contracts | 186 |
Soure: World Bank (2015)
World Bank's statistics on India are not very promising for the startups and the entrepreneurs. Prime Minister Narendra Modi aims to improve India's ranking to first 50 countries from 142 in the World Bank's ease of doing business rankings. But the other reports like – NASSCOM Startup report 2014 seems to be very promising and motivating. According to this report India is the fastest growing and the 3rd largest base for startup ecosystem globally only after US & UK.
The key highlights of the reports claims that India is the home for around  3,100+ start ups which is 3rd largest in the world. Around 800 plus startups are setting up annually in India every year and by 2020, a projected 11,500 startups are going to emerge employing around 250,000 people. The report also states that over 20 Mergers and Acquisitions happened in the last 3 years worth 1 billion US dollars.
This bullish trend of startups in India can be analyzed from various aspects. One is the advantage of demographic dividend that India is enjoying right now and going to enjoy for next decade or so if managed properly. Also the macro-economic environment globally is on the correction mode which is going to reflect on India's economic environment; after all it's an interconnected world now.
India has always relied on the growth of service sector and the success of IT & ITES companies which have made a mark on the International markets, and is a great source of basis for new startups like technology startups etc. Number of people using simple technology in India like internet enabled smart phones is among the highest across the world. This gives a humungous opportunity to new entrepreneurial minds across the diverse fields for startups. The overall ecosystem for start-up must be nurtured and supported by the government with the supporting initiatives to make the story rolling.
Following are some of the measures undertaken by the present NDA government towards boosting the entrepreneurship in India and especially the start-ups:
MUDRA BANK
Allocation of 20,000 crore for Micro Units Development Refinance Agency (MUDRA) Bank for the SME sector and will enhance credit facility to boost the growth of small businesses and manufacturing units. He also allocated Rs 1,000 crore for support of start-ups. Mudra Bank has been launched on 8th April 2015; it will provide credit of up to 10 lakh to small entrepreneurs. Positive news is that the bank got started last month with the beneficiaries receiving the required help.
The Government's 'Make in India' initiative and its thrust on expanding the percentage of manufacturing to India's GDP has the vigor to transform the fortunes of the micro, small and medium enterprises (MSMEs) in the country. Also, with focus on Digital India and Swachch Bharat Abhiyan, the sector will get the needed impetus.
Ministry of Skill Development and Entrepreneurship
It is first time that MoS (Minister of State) has been given the responsibility of developing entrepreneurship in the country, though this task has been undertaken previously by multiple departments and agencies. UPA government witnessed entrepreneurship skill development with the departments of MSME (Ministry of Micro, Small & Medium Enterprises), NDA is doing under the scope of National Skill Development Agency.
Introducing a federal ministry for entrepreneurship and skill development shows that Mr. Modi is serious about developing and promoting entrepreneurial startups in contemporary times of advancing economies. By 2022, India have targeted to obtain skill development for about 500 million people, primarily through encouraging private players to provide viability gap funding and skill development programme initiatives. With this target in mind, and with the help of private players, it is ministries role to enforce targets are achieved and also create an ecosystem that ensures ease of doing business and nurtures entrepreneurship by eliminating bottlenecks during the process.
10,000 crore fund for venture capital in MSME sector
10,000 crore initiative is to accelerate investment from private firms to startups in the name of "equity, quasi equity, soft loans and other risk capital" to create a suitable environment for venture capital in MSME sector. In countries like US, Israel, and Singapore, public funding prevails to be the main source of funding in growing ecosystems of startups. We believe that the present government would take lessons from such countries, and such a fund guides risk capital towards areas where it is required the most, yet mostly deficient: research, technology commercialization, product development, etc.
District level Incubation and Accelerator Programme
"District level Incubation and Accelerator Programme" across the nation will be a good start to generate new ideas and promote entrepreneurship with all the necessary support. Though, it is a positive program, but incubators are not a uniform beast. Several ventures are provided services through different kind of incubators. Hence, a broad and nationally-accepted classification is needed to comprehend the unique demands of resources from each set of incubators, to tackle difficulties they encounter, and their paths for success.
"Entrepreneur friendly legal bankruptcy framework will also be developed for SMEs to enable easy exit."
In India, bankruptcy framework is not prevalent, allowing entrepreneurs to bounce back from their failures in business and try again. Forming a company is not complicated in this country, as many assume, but destroying a formed company is extremely difficult, with many businessmen having their first startups failed, move on to build their second or third prospering businesses. In this context, entrepreneur friendly legal bankruptcy is a significant opening move. Now it is in the hands of industry and ecosystem players to engage seriously and create a simple but efficient framework.
In India, the intention of setting up a startup investment for rupees 10,000 crores is a remarkable initiative. Even in a developed ecosystem like US, we have witnessed the potential gains of an SBIR fund on the economies of startups. Funds like such, if well structured, can entertain much required 'real early-stage' investment support that startups in India want today. This initiative could be an important role in producing smooth integrated funding mechanism and also in helping the funding ecosystem for startups to mature.
SETU
The government is building up an approach to be known as SETU (Self-Employment and Talent Utilization) which will strengthen all prospects of startups, and other self-employment initiatives, especially in technology-driven areas.
"By the time a great idea gets approval and the funds arrive, the people behind the ideas move on to accept high-package jobs in multinational companies, now this big boost from the government will help the budding entrepreneurs in making big".
AIM Platform: ATAL Innovation Mission (AIM)
The 2015 budget has also established the AIM Platform or Atal Innovation Mission (AIM). AIM is established within National Institution for Transforming India (NITI) "to provide innovation promotion platform involving academicians, and drawing upon national and international experiences to foster a culture of innovation, research and development". The 2015 budget has earmarked Rs.150 crores for the AIM Platform.
Corporate Tax to be Reduced to 25%
The 2015 Budget has announced the reduction of corporate tax rate from 30% to 25% over the next four years, starting from next financial year. It is expected that the corporate tax rate will be reduced in a phased manner to 25% over the next four years. It is expected that the reduction in corporate tax rate will lead to greater investment, higher growth and more jobs. The corporate tax rate deduction to 25% will also be accompanied by scrapping various kinds of tax exemptions and incentives for corporate taxpayers.
eBiz Portal for Starting a Business Easy
The 2015 Budget has put forward the creation of "an expert committee to examine the possibility and prepare draft legislation where the need for multiple prior permissions can be replaced by a pre-existing regulatory mechanism. This will facilitate India becoming an investment destination" by facilitating the regulatory mechanisms. Further, the 2015 Budget also talks about strengthening the EBiz Portal to make starting a business easy in India.
Central Excise and Service Tax Registration in 2 Days
For making the start of a business and getting the registrations easier, the 2015 budget announced that central excise and service tax registration will be completed within two working days.
Formation of eBiz portal
The first Government to Business (G2B) portal launched by the current NDA government is owned by DIPP under Ministry of Commerce and Industry integrates 14 regulatory permissions at a single place and has announced various labour reforms to boost job creation and entrepreneurship. The step by government is a part of facilitating the ease of doing business in India.
The current measures taken by NDA government are on the right track to boost the sentiments of new startups and the entrepreneurial ventures. While creating a balance between social responsibilities of the government to support the poor sections of the society, it is also very important to boost the business startup that emerges as the employment & revenue generating mechanism for an economy.
While in the country like India, government alone cannot fulfill the employment opportunities also. Individuals need to come forward to help themselves, given the viable business atmosphere by the government. Adam Smith, an 18th century economist and author, in his book Wealth of Nations has talked about the "Invisible Hand" that Individuals pursuing their best self Interest would result in greater overall good to the society. If India wants to mark its presence in the global arena, this Invisible hand would be none other than our budding entrepreneurs and start-ups which can make the elephant dance again..!
The writer of this article is Rasananda Panda, Ph.D. Professor of Economics, General Management Area at MICA, Ahmedabad - India's premier management school for strategic marketing & communication. The views expressed here are personal.