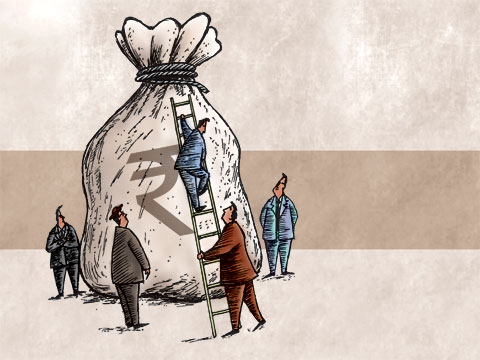 It's "India Shining" again, at least for Indian start-up ecosystem. The number of tech start-ups will increase to 11,500 by 2020 from current 3,000 - a golden era for technology-led business as predicted by Nasscom. This shows the fire in the belly Indian youth has. But risk capital, the fuel to that fire, is supplied scarcely and selectively. That's the opportunity VC firms are targeting, building up their war chests in what seems to be the winner-takes-all market. Entrepreneur explores new funds raised/launched by VCs in the first quarter of 2015.
YouWeCan Ventures
Ace Indian batsman and star of India's 2011 World Cup win, Yuvraj Singh is again aiming to score big but not on his traditional turf. The most costly buy at Rs 16 crore for IPL 2015, Singh has launched a start-up fund to invest around $6.5-8.5 million over next three-five years in seed- and early-stage deals and raising around $50 million from various investors during the period. The fund made its debut investment last month in mobile beauty and wellness platform, Vyomo. The amount, however, wasn't disclosed.
"Singh's Twitter and Facebook fan base is over 10 million, growing at 50 per cent every month. Singh can generate lots of organic traffic for any start-up as it needs consumers from ideation to the proof-of-concept stage to use its products or services. He will leverage his digital assets to help start-ups," says Nishant Singhal, Co-founder and Chief Investment Officer, YouWeCan Ventures.
Fund size: Around $58 million;
Ticket size: $16-40k
Investment stage: Seed-early stage;
Focused sectors: Health care, travel & tourism, sports fashion & real estate;
No. of companies invested in: One (Vyomo)
Exit(s): NA
Ventureast
The pioneer in Indian VC space, Ventureast, which has close to $300 million under management, will be closing fund raising for its fourth fund for $150-200 million called Proactive Fund II, this month.
"From Proactive Fund II, we will invest in start-ups where capital is not the primary competitive advantage unlike platforms like Flipkart and Snapdeal where capital is more important than technology to grow," says Sarath Naru, Managing Partner and Founder, Ventureast.
Fund size: $150-200 million;
Ticket size: $250k-5 m in new rounds and up to $10 million in follow-up rounds;
Investment stage: Seed & early stage;
Deals to be made this year/fiscal year: 3-6;
Focused sector(s): Cloud-based health care space, social media & IoT;
Previous fund(s): APIDC Venture Capital Fund (launched in mid 90s), Tenet fund I (for $5 million launched in 2001) and Tenet Fund II (for $18 million launched in 2007), Biotechnology Venture Fund (for $40 million launched in 2005), Proactive fund (for $150 million launched in 2008) & Life Fund (for $200 million launched in 2011);
No. of companies invested in: Around 120 including Goli Vada Pav, Portea Medical & DiabetOmics;
Exit(s): About 40
Peesh Venture Capital (PVC)
PVC is a US-based VC firm that launched its existing $50-m fund, PVC II, in India along with an accelerator called PVC Accelerator in Bengaluru and Gurgaon. It has also tied-up with International Institute of Information Technology-Bengaluru to fund and accelerate mobile and Internet of Things (IoT) start-ups.
Peesh Chopra, MD, PVC, says, "PVC was launched in India keeping in mind that at this juncture the Indian start-up ecosystem is on the threshold of exponential economic growth, and there is a need of concentrated support and funding for new ventures to make India  becoming an economic power."
Fund size: $50 million;
Ticket size: $100,000-$5,000,000;
Investment stage: Early stage
Investments to be made this year: As many as possible;
Focused sector(s): Ad tech, e-commerce, gaming, education, mobile apps, enterprise software, wearables & IoT; No. of companies invested in: NA;
Exit(s): NA
Bessemer Venture Partners (BVP)
Global venture capital firm based in Silicon Valley, BVP, has raised $1.6 billion for new fund called BVP IX, being the ninth fund for the VC firm. In India, it has invested in companies like Snapdeal and TaxiForSure while globally in Pinterest etc.
Fund size: Around 1/3 of the new fund is meant for investments outside US, i.e. India and Israel;
Ticket size: Rs 1.5-300 crore;
Investment stage: Seed to growth stage;
Focused sector(s): Consumer Internet, technology-led marketplaces, mobile-first businesses & enterprise software;
Previous fund(s): BVP VIII (worth $1.6 billion) launched in 2011;
No. of companies invested in: 28 since 2004 including matrimony.com, Hungama.com & Bigbasket.com;
Exit(s): Partial exit from Shriram City Union Finance from 2014-2015, Motilal Oswal IPO in 2007, strategic sale of TaxiForSure to Ola early this year and partial exit from Snapdeal last year.
Accel Partners India
The global VC firm known for its investments in Flipkart, Bookymyshow, Myntra and TaxiForSure has raised its fourth fund, Accel India IV, to invest in Indian start-ups. The current fund size of $305 million is double the size of its previous fund Accel India III worth $155 million.
Fund size: $305 million;
Investment stage(s): Seed & early stage;
Focused sector(s): Consumer, enterprise software, mobile & health care;
Previous fund(s): Accel India III ($155 million launched in 2011) and Accel India II ($60 million). The second fund was launched in 2008 after it merged with Erasmic Venture Fund;
No. of companies in current portfolio: 80 including Bluestone, CommonFloor, Freshdesk & LetsVenture;
Exit(s): Myntra (acquired by Flipkart for around $370 million in May 2014), TaxiForSure (acquired by Ola Cabs for $200 million in March 2015) and Virident (acquired by Western Digital for $685 million in September 2013)
SAIF Partners
SAIF Partners, one of Asia's most active PE firms, has recently raised $350-million fund called SAIF Partners India V. "Overall our focus will continue to be seed and Series A investment in technology and technology dependent businesses that continues to be impressive," says Deepak Gaur, MD, SAIF Partners.
The firm has to its credit companies like MakeMyTrip.com (listed on NASDAQ in 2010), Justdial.com from which SAIF Partners sold 2.4 per cent of its stake for Rs 254 crore (30 times of its investment).
Fund size: 350 million;
Ticket size: $5-10 million;
Investment stage: Seed and Series A;
Deals to be made this year: 5-8 in growth stage, 10-12 in seed stage;
Focused sector(s): Technology;
Previous fund(s): Fund I, Fund II, Fund III, Fund IV with over $1 billion investments under management in India;
No. of companies invested in: Over 50 including Paytm, Bookmyshow & Urban Ladder;
Exit(s): Partial exits from MakeMyTrip.com & Justdial.com
GVFL
Formerly known as Gujarat Venture Finance Ltd, GVFL is an Ahmedabad-based venture capital firm set-up in 1990. It has now planned to form a Rs 50-crore start-up fund, along with the Gujarat Government, to provide seed funding. GVFL has also launched Rs 600-crore fund, Value Multiplier Fund, for early to growth stage tech start-ups and non-tech MSMEs.
"The appetite of investors is much more today. From 2009 to 2014, the amount of investment was lower than what was expected. But now, the bigger picture is looking better in terms of improving economic growth, rising infrastructure spending and consumption-led businesses. Globally, other markets are unlikely to do what India is doing," says Mihir Joshi, President, GVFL.
Fund size: Around $8.3 million for start-up fund & $100 million for Value Multiplier Fund;
Ticket size: Rs 1-2 crore for start-up fund & Rs 15-20 crore for Value Multiplier Fund;
Investment stage: Seed-stage for start-up fund & early to growth stage for Value Multiplier fund;
Deals to be made this year: Around 6;
Focused sector(s): medical devices, affordable health care, education platform & delivery for Value Multiplier Fund;
Previous Fund(s): Seed funds - GVCF 1990 and GVCF 1995 launched in 1990 and 1995 respectively focusing on technology and software businesses. Start-up funds - GVCF 1997 (launched in 1997) and Gujarat IT fund (formed in 2000) both focusing on IT; and Gujarat Biotechnology Venture fund (launched in 2005) aimed at businesses in different areas of biotechnology. Growth funds – Golden Gujarat Growth Fund I, which was sponsored by the Gujarat Government, in 2011 for clean technology, infrastructure and alternate energy; and SME Technology Fund set up in 2008 for technology-led SMEs;
No. of companies invested in: 83;
Exit(s): 59
Nexus Venture Partners
The native VC firm is on the way to raise its fifth fund to invest in early and early-growth stage companies with a corpus of $400 million. With over $600 million under management, it will become the first Indian VC fund having $1 billion funds under management. The new fund is the second largest after $530 million that Sequoia Capital India raised in May last year for its fourth India-focused fund.
"India's large consumer base seeks world-class products and services at affordable price. Also our large technical talent pool can build global consumer technology products in a capital-efficient manner. That is why, money is coming into early-stage funds focused on India," says Sandeep Singhal, Co-founder, Nexus Venture Partners.
Fund size: $400 million; Ticket size: Up to $10 million;
Investment stage(s): Early & early growth;
Investments to be made this year: 6-8;
Focused sector(s): Consumer Internet, mobility & software;
Previous fund(s): India Opportunity Fund ($110 m raised last year), Nexus India Capital Fund I ($100 m announced in 2007), Fund II ($220 m raised in 2008), Fund III (around $270 m raised in 2012);
No. of companies invested in: Around 60 including Druva and Housing.com;
Exit(s): Dimdim (acquired by Salesforce for $31 m in January 2011), OLX (acquired by Naspers in 2010) and Gluster (acquired by Red Hat for $136 m in October 2011)
VC Fund for SC Entrepreneurs
Government-owned development bank IFCI's subsidiary IFCI Venture Capital Funds (IVCF) is the main sponsor for Rs 200-crore VC fund launched by the government for SC entrepreneurs. IFCI has further contributed Rs 50 crore to the fund.
"Any Dalit entrepreneur doing business for the past one year from the date of applying for the fund will be eligible. Also, the promoter needs to have at least 60 per cent of the company's shareholding as well as management control as a precursor to raise capital from IVCF," says Shivendra Tomar, MD, IVCF.
Fund size: Around $41.7 m;
Ticket size: Rs 50 L- Rs 15 cr.;
Investment stage: Seed-growth stage;
Deals to be made this year: NA;
Focused sector(s): Sector-agnostic;
Previous fund(s): Green India Venture Fund (Rs 330 crore for environment friendly projects), India Automotive Component Manufacturers Private Equity Fund-1- Domestic (Rs 396 crore for automotive component firms) and India Enterprise Development Fund (Rs 250 crore for knowledge-based projects);
No. of companies invested in: 26 including Satyam Cineplexes & Shakti Pumps;
Exit(s): 13 partial exits and four full exits(as per 26th Annual Report 2013-14)
Innovate in India Fund
In April 2013, IT major Infosys had announced its $100-million Global Innovation Fund which it expanded to a corpus of $500 million in the beginning of this year to invest in the US, Europe and Asia Pacific Japan region-based start-ups.
It made two investments from the fund, first, worth $5 million in a spin-off company of US-based animation studio, DreamWorks Animation, in February this year and second, for $2 million in another US-based start-up, Airviz, that makes cloud-enabled air quality testing devices, last month. Now, from this fund it has carved out a $250-million Innovate in India Fund to focus on Indian start-ups.
"With the 'Innovate in India Fund,' Infosys will invest in great Indian start-ups, help amplify their engineering and operations as well as bringing their innovations to market at scale," said Dr Vishal Sikka, CEO and MD, Infosys, in a meeting with PM Modi. He last month hired Yusuf Bashir, his former colleague at SAP to head the two funds and the start-up incubator that Infosys launched last month.
Fund size: $250 million;
Investment stage: Early-growth stage
Focused sector(s): Artificial intelligence, automation, IoT, collaboration & design;
Previous fund(s): NA;
No. of companies invested in: NA;
Exit(s): NA
500 StartupWallah
500 Startups, a seed fund and start-up accelerator based in Silicon Valley, has decided to launch its India focused $20-million fund called 500 StartupWallah. The investor, who has so far invested in around 30 Indian start-ups since 2011, had tried raising $5 million to invest in India in 2012 but then put it on hold citing lack of maturity in the market that time.
"We have to be plugged into the local system. Our regional funds will help achieve that," said Aerin Lim, Director-Investor Relations, 500 Startups, during her recent trip to India.
Fund size: $20 million;
Ticket size: $50-100k;
Investment stage: Seed stage;
Deals to be made this year: NA;
Focused sectors: Mobile, e-commerce, SaaS, financial services & education;
Previous fund(s): NA;
No. of Indian companies invested in: 30 including Instamojo & Kartrocket;
Exit(s): Zipdial (acquired by Twitter in January this year)