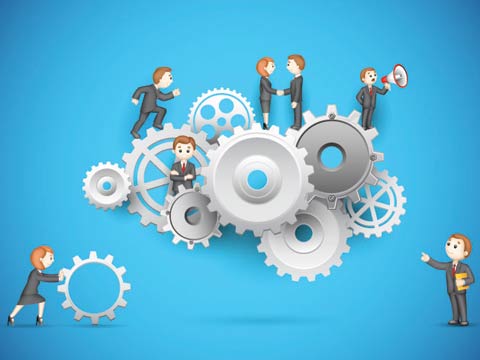 Despite its strategic importance in any industrialisation strategy, the opportunities that the Indian landscape presents and its immense potential for employment generation, the MSME sector in India faces several challenges. The most formidable problem faced by SMEs is how to broaden their access to large corporations with-in and outside the country.
The problem deepens with the fact that there exist a huge dearth of information on the performance and capacity of MSMEs, which reduces the confidence level of large organisations to outsource their backend activities. Interested organisation often is not able to identify and evaluate the capability of the enterprises thus hesitate in offering business to the MSMEs. So, there is an immediate need for a programme that gives an in-depth evaluation of MSMEs with detailed understanding of their financial, operational and technical capabilities.
The evaluation report must be designed to provide customers, investors and marketers, a credible source of information to assess the true capability of the enterprise and thus consider them for exploring new business opportunities and capacity building.
Under the SME grading scheme, the rating agency should conduct a 360-degree evaluation of MSME's clearly stating the product offerings, production capacity and financial prudence of the MSME.
The report must provide a first-hand account of the facilities, resources, equipment, manpower, production capacity, etc. Feedback from various stakeholders including customers, suppliers, bankers and employees must be incorporated as a separate section of the report. Also the data gathered through financial statements and other certified documents should be analysed by an expert team to provide industry specific insights.
All information and analysis must serve as inputs to the predefined grading grid to arrive at cumulative rating score on each broad parameter and finally assign grade to the MSME.
In order to ensure that only the capable and well meaning MSMEs are allowed, the government should mandate that all accreditation must be done by reputed rating agencies empanelled with NSIC.
Impact of Credit & Performance Ratings
>> Number of Participating MSMEs
•Near two-fold increase in the number of participating MSMEs in the rating process over the last three years (5,000 in 2008-09 to 10,000 in 2010-11)
•An outcome of popularity, recognition, relevance and growing acceptance of the rating scheme among enterprises across states
>> Popularity
•Eighty-nine per cent of banks indicated that enterprises approached for credit assistance especially in the category of one crore and above were either rated or were fully aware of the NSIC scheme
•Sixty-seven per cent banks also stated that enterprises having lesser credit requirements had comprehensive knowledge on the NSIC rating scheme and were positively inclined to get their unit rated
>> Renewal
•Sixty-two per cent of the contacted enterprises showed willingness for renewal in the coming year and this suggests that enterprises are quite serious about the rating process and view their participation in the rating process with specific purpose
>> Improvement in Performance
•An increase of 4 per cent in the highest category of rating (SE1A) in the last three years points towards the success of the rating process
•Of the 32 per cent enterprises that renewed their ratings in the last three financial years, 67 per cent achieved higher rating in subsequent years and 53 per cent improved their financial performance
>> Credit Approval
•Sixty-one per cent rated enterprises termed rating to be highly significant for credit approval and 10 per cent of the enterprises indicated rating as an important parameter in credit processing
>> Interest Rate Reduction
Forty-four per cent enterprises (approached for credit) were benefitted in terms of reduced rate of interest, 22 per cent in terms of rebate in loan processing fee including folio charges.
MSMEs can help in promoting 'Made in India' products and increase India's share in global exports. Ratings have played a vital role in achieving this objective. As per the feedback received by the MSME, which are into exports, 53 per cent reported benefits in securing export orders after getting rated. Thus, ratings help in building trust in the MSME sector and at the same time also facilitate in eradicating the barriers to showcase the capacities and capabilities of these small units to specialise in varied activities. 
The writer of this article is Varun Mirchandani, Executive Director, ONICRA Credit Rating Agency of India Ltd. The views expressed here are personal.