Why Women are Better Entrepreneurs?
This is not just a man's world
Tags: women, entrepreneurs, multi tasking, women better than men
BY Entrepreneur | Dec 21, 2009 comments ( 1 ) |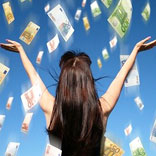 Recently a study by FICCI's ladies organization (FLO) has found that women entrepreneurs face an uphill task when it comes to starting their own business. Only 15% of the total women surveyed in Delhi were positive about entrepreneurship.
But this by no way means that women are less capable vis-à-vis men when it comes to entrepreneurship. Various studies have proven that women are better entrepreneurs than men. A study by Harvard business school estimated that women-owned firms are growing at close to twice the rate of all privately held firms.
Lina Asher, the Australia born founder and managing director of Kangaroo Kids Education Limited (KKEL), firmly believes that women are better entrepreneurs than men. "It is not because I am a woman that I say this. But entrepreneurship requires a great deal of multi-tasking and women are better at multitasking than men, so they are better entrepreneurs than men," she says.
Lina believes that this is not just a myth or hear say but has been scientifically proven. "The flow of blood to the brain is more in women than in men. This is attributed to greater presence of grey matter in the frontal cortex of women. This gives them the ability to focus on a number of things at the same time."
Nandini Vaidyanathan a mentor for start-ups says, "Women are more intelligent than men. Even if they are not so well or highly educated they can perform better than men." Citing examples of women she has mentored she says, "A woman once came to my office and said that she wanted to start her business but she had no idea of what would she do. Also, she had no experience of business and all she knew was cooking. She opened a bakery. With a little support and guidance her bakery became so successful that not only she reached break-even in one month but also opened a second outlet in six months."
There is no special gene that makes women better entrepreneurs but the general character traits that they posses. Women are able to handle more stress and so they are better able to handle the stresses attached to a startup. It has been found that stress affects memory and retention to a greater degree in men aged 20-30 than in women aged 20-30. Women are also more likely to admit things that they do not know and understand than men and hence either outsource it or look for alternatives to handle such matters.
According to the study by FLO the reasons that keep women from entrepreneurship vary from monetary (60%) to family (17%) and even social (3%). But these are obstacles that women anyway have to fight so why be scared when it comes to entrepreneurship. All you need is will…so go out, create your own business and create a world of your own.
Please add your comment
Aditya Takkar
September 11, 2013 at 2:37 am
Women are pretty quick to point out the social factors that prevent them from doing something. After all it is so convenient. May be one can prove it scientifically by citing attributes where women fare better but I feel its biased. Women leadership can be a big issue at times. Even women who have a women boss/manager have admitted this. If they are so good why do the statistics (considering entire world here) show such a stark opposite picture. Infact the women who have done well seem more like men at least when it comes to leading a company or being an entrepreneur. \'Only 15% of the total women surveyed in Delhi were positive about entrepreneurship. But this by no way means that women are less capable\' JOKE. It\'s like saying, I can do it but I don\'t want to.
Reply |