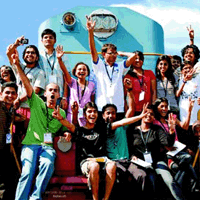 Every year around 500 start-ups emerge in the Indian entrepreneurial ecosystem. Jagriti Yatra, the annual 8,000 km and 15-day-long national odyssey, which is held to promote entrepreneurship, does that on a scale and platform unlike any other event.
A Journey Apart
The journey focusing on individuals from small towns and villages hand picks 450 people who are introduced to the social and business entrepreneurs of the country as role models during the trip. While people in metros get enough exposure to the entrepreneurial ecosystem, the semi-urban and rural areas usually take a back seat. "People in small towns and villages need to be exposed to the act of entrepreneurship through entrepreneurs and the kind of work that they do so that people can learn and get inspired to do something," says Ashutosh Kumar, Executive Director, Jagriti Yatra. The motive of the entire yatra boils down to one common idea of exposing these participants to individuals and companies developing unique solutions to India's developmental challenges, and incorporate that learning into starting their own enterprises.
"The kind of experience that these participants get during 15 days cannot be gained just by sitting in an auditorium with speakers and experts. They need to go out into the real world to understand the kind of work done and how it is done by leaders at the ground level to start their own business. The train in this journey itself provides for a great learning platform as people stay connected 24x7 on it with discussions and exchange of ideas," adds Kumar.
"The yatra focused on enterprise-led development efforts that exposed us to unsung heroes who were not building iPhone apps but were solving problems of power supply, literacy, food which are at the core of the nation's development. Rare have been conferences and summits with such an agenda," says Vivek Khandelwal, Co-Founder and Manager – Products, Applied Mobile Labs. Khandelwal, who had participated in 2008 yatra, met with a fellow yatri, Mrigank Tripathi and later teamed-up to start the firm. Applied Mobile Labs operates in mobile education and mobile based lead generation.
Since its launch in 2008, the programme so far has been able to build around 150 enterprises. "In the last five years, around 2,300 people have been on the yatra and around 150 people have started their own enterprises in sectors like agriculture, health, education, energy, water and sanitation, housing and manufacturing," adds Kumar.
Learning in Course
Ashmeet Kapoor, who started his online/offline firm home delivering organic vegetables in 2011, had come to India from the US with the intent of starting a social enterprise and the train journey helped him in exploring the opportunity and challenges in agriculture.
He says, "The yatra provided a platform for me to start conceptualising the idea. It seemed like a great way to explore the country and understand the perspective of people coming from kind of business small towns and villages and use these experiences to get more clarity on what to start. While I was doing my analysis of what major problems had to be addressed to catalyze rural development, I started realising that strengthening agriculture is the only way forward." After the yatra, Kapoor spent six months in Deoria (Eastern UP), one of the place that he visited during his journey, to test his ideas of organic farming on the ground.
With 450 minds interacting on daily basis, the yatra apart from being a learning platform also doubled as a great networking event too. "The most important thing from the yatra has been that it helped me in building good contacts in every part of the country. Also, now I have got tie-ups and associations with other yatris for my business development," says Pundlik Wagh who started his firm Vayuva in 2010 offering indoor and outbound management programmes.
The interaction with entrepreneurs as role models at 13 different cities, where the train used to halt, and observing their work culture gave the participants hands on learning. "Naandi Foundation in Hyderabad that powers the mid day meal programme across the country and caters to over a million students, made me realise the importance of non-profit activities and the tremendous value that they add to the rusting government. His motivation and passion to make an impact was inspiring," adds Khandelwal.
"It was very exciting to see the work at Arvind Eye Care (Tamil Nadu) first hand. I enjoyed the field visit as I understood their model that sets up low cost eye care centers in villages, and connects them with their facilities in the city to offer high quality service to the poorest people, while building a profitable business. It is visits like these which give you the inspiration and confidence required to be a social entrepreneur," states Kapoor.
The Tech Support
Jagriti Yatra, an initiative of a NGO Jagriti Sewa Sansthan based in Uttar Pradesh was sponsored by technology giant, Dell. The yatra provided Dell too with a ready platform to interact with an entirely new demographic of start-ups and help them strengthen their small and medium enterprises (SMEs) market in Tier 2 and 3 cities through its technology offerings as one of their key priorities in India.
The yatra had Dell executives along with the yatris in the train who gave them a perspective on the importance of technology adoption as a growth enabler in business and addressing many of the IT issues.
"Jagriti Yatra was a marketing initiative driven by Dell's commitment to support SMEs especially in the Tier-2 and the Tier-3 cities. According to a recent study by Zinnov Management Consultancy, around 10 million SMEs are technology-ready. Dell aims to tap this particular segment of the market through initiatives like Jagriti Yatra by educating them on how technology can be used best to optimize their productivity and showcase Dell's end-to-end technology solutions that are open, capable and affordable," says Rekuram Varadharaj, Marketing Director, Enterprise Solutions and Growth Markets, Dell India.
Costs and Criterion
The cost incurred on the yatra every year is huge. The total amount raised by the yatra team is consumed in financing the annual expedition itself. The initiative is bereft of any commercial element attached.
"The entire project cost is around Rs 2.5 crore for the year. It is the money from sponsorship, foundation's trust and the money that we raise from these participants which is used to run the yatra as there are a lot of cost elements attached like booking the train, buses, arranging for food for 450 people and also for the salaries of the team members. There have been no profits and neither have we looked for it," states Kumar.
The registration cost per individual for the yatra is Rs 4,500 while Rs 38,000 is charged for each participant's food, travel and other costs. In case any participant is unable to pay that amount then he/she needs to submit documents verifying their weak economic condition. The amount is then waived off given the yatra team is convinced of the documents. However, the registration fee stands mandatory, according to Kumar.
The Jagriti team chooses people in the age bracket of 20-25 years while those above 25 years are asked to apply as facilitators or mentors. Although there is no set criterion to judge the participants based on their education and experience but they are presented with around seven questions to gauge their entrepreneurial potential and passion.
Women on-board
The numbers for women participants in the yatra though have been significant but not on a par with men. There are only 40 per cent of women participants, most of which were from urban localities while only 20 per cent were from semi-urban and rural areas. Kumar says that getting women participants and that too from semi-urban areas for 15 days without parenting is always very difficult.
The train, however, provides separate bogies for men and women with women security personnel ensuring the women participants' security.
In terms of global participation, there were around 25 people last year mostly from African countries. "They bring on board unique perspective from their respective countries and tried to relate the challenges in India with their challenges back home. There were few of them which were inspired by the concept of Jagriti Yatra and even contemplated to adapt it in their own countries," says Amit Monga whose online sports good retail portal founded in 2010 was acquired by Snapdeal in 2012. Monga had participated in the yatra last year itself.
The yatra team already has a well moderated Google group for participants of all the yatras so far to connect with each other that serve the purpose of online discussions and updates. Apart from this, "We are planning to start Jagriti Enterprise Network for yatris to connect and corroborate with each other on their ideas and finally create enterprises. The plan is also to bring mentors and experts on the platform so that they can guide these yatris," opines Kumar.
Last Word
The step though positive and quite big, at the end has not generated many businesses in the country. In other words, the number of entrepreneurs created in a span of five years does not seem very significant as there are quite a few who had either failed or who had returned to their previous jobs after trying their hands in entrepreneurship. What start-ups require is a support structure apart from inspiration and encouragement that calls for personalised round-the-clock mentoring and handholding with guidance on launching the business, early to growth-stage investments, tie-ups, etc. from financial advisors, investors, consultants, etc. provided it is a scalable business model. The rest, as they say, is difficult to sustain a business than starting it.