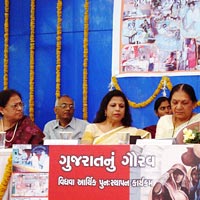 Today, more women than ever before earn a better living than previous generations in India's history. They are on the wheel of increasing entrepreneurship and business ideas. Not only in cities but small town's women have courage and spirit to start their businesses. At present, there are more than 1.3 million women entrepreneurs with their businesses and this number is more than any other nation worldwide except the China and US. They all are strengthening the Indian economy and have great impact on the entrepreneurial ecosystem. At the time they also seek different type of helps in the form of training and networks that help them to grow widely to unleash different growth opportunities but there is a lack of information and financial education available to them traditionally. However there are a number of programmes started by the government for helping these women entrepreneurs. "Two years back I started my small embroidery business by using personal sources and had no idea to grow it further until I joined a short programme organised by the state government for women entrepreneurs in Bagalkot. The programme taught me about different ideas to make my small business grow and to reach out more customers, says Kadambari, who got the training under the programme named Stree Shakthi, a programme run by Karnataka's Government to empower women. Other than government efforts, there are many other organisations that are consulting women and assisting them in each and every issue they face at their business level. They are helping women entrepreneurs to scale their businesses and learn from each other endeavors.
Need of Helping Resources
With a desire to become independent and successful, women entrepreneurs have many challenges to face. Social restrictions function at emotional and economic levels, along with financial instructions make situations more difficult to women to take plunge at business level. Moreover, they have less knowledge about how to start and run a business operation. For solving these difficulties, they can get assistance from the available helping resources and can emerge a successful entrepreneur with the acceptance from family and society.
Top Resources:
The International Centre for Entrepreneurship and Career Development (ICECD)
 "My vision continues to be the economic empowerment of women, but the final mission is the achievement of full equality and total around development of women," says Hina Shah, Founder, ICECD.  To fulfill her dreams, she launched ICEDC and led the way in women entrepreneurship development by specially designed "Women Entrepreneurship Development Programmes" (WEDPs). Through this programme, over 65 per cent women entrepreneurs have attained self-sustainability. Their investments range from Rs 2,500 to Rs 50,00,000 which include projects dealing in products like voltmeter, plastics, packaging, garments, hosiery, stapler pins, computers, u-forms, etc. These trained entrepreneurs have added assets to their businesses as well as household and lead a superior quality of life. So far, 2,00,000 women entrepreneurs have been created under its different schemes.
TiE Stree Shakti (TSS)                            
TSS was started by Tie Mumbai Chapters in 2009. It is a society that works to connect women entrepreneurs from different socio-economic strata via organizing a series of activities for mentoring, education and motivation of women entrepreneurs. Tie has decided to start this initiative after a study conducted in association with Grassroot Entrepreneurship Monitor (GEM) on Indian women entrepreneurship. The study revealed that 90 per cent of women at the initial stage need help and support for improving their business skills. To plug this gap, TSS led a panel of successful enterprising women. They organises various activities like 'Chat over Chai' and 'Can I Dream Big' to share experiences with each other and know the skills of business scaling from successful enterprises. Under this line, 'Group Mentoring Programs', Business Guidance Camps' and 'Business Guidance Hotline' are held to impart knowledge and information of current market scenario. It also organises bi-annual conference and award ceremony to recognise and celebrate women entrepreneurship.
Self Employed Women's Association (SEWA)
SEWA, the India's oldest help desk for women entrepreneurs, was founded by Ela Bhatt in 1972. It has started with 320 members and this figure crossed 10,00,000 mark. It helps women entrepreneurs through its micro financial products at Sewa Bank, and Sewa Trade Facilitation Centre (STFC).  Over the age of 15, any woman who is self-employed can become a member of SEWA. For helping maximum women entrepreneurs SEWA charge just Rs 3 fee on annual bases. 
WeOW by Google
At a time when global economy is facing challenge Google also came forward to recognise the importance of women entrepreneurs. As a pan-India initiative, it has launched WeOW, a platform to women entrepreneurs to show their products and grow their online presence. By using this channel they can launch their products and scale their businesses in Tier-II and III towns. Initially, this programme was carried only Tier-I cities, but eventually moved into rural areas. Most promising part of this plan is that all its services are free and Google will assist to get products online. It will connect these entrepreneurs directly with the customers. Moreover, the platform is also supporting in creating community, getting education and training about the business. 
Moreover, there are many other initiatives from government and non-government organisations that are supporting women to achieve their entrepreneurial goals and making efforts to encourage hidden talent of women. There are banks and non-banking finance companies in India that are lending at low rate of interest for women entrepreneurs.