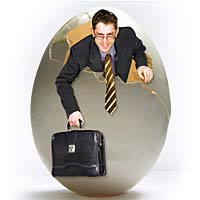 When you are thinking of starting a business idea and seeking for mentorship and assistance from some experienced professionals, a business incubator could be a better option. It would help you more than just assisting you in your start- up journey. However in India, the trend of business incubator is at nascent stage but spreading going rapidly in Tier-I and Tier -II cities.
Such centers are helping start-ups grow quickly and offer wide range of services including business consultation, capital generation and marketing strategy. The center provides all these services from industry experts, advisors and consultants, who understand the market and know about the business constraints very well. But before the finalising an incubator as a start-up you need to consider the few points and evaluate incubator from available evidences and sources. So do complete homework before decide to join any incubator programme. To know more let us take a look of following points that should be considered before the finalisation of an incubator.
Should I join an Accelerator?
To know the answer of this question is very important for every start-up that is looking for incubator assistance. Tejas Darji, Co-Founder, Chor Police Foods, a Tiffin service start-up, says, "I started my venture in December 2012 but took decision to join Bootup Factory, an incubator for global start-ups in April 2013. I think the decision of joining an incubator depends upon the individual choice as well as the need of your business. In my case, when I felt the need to expand my business through corporate connection I joined Bootup Factory. Here I get a number of opportunities to meet industrialists and make connections for business growth." He says Bootup factory also provide assistance in the improvisation of marketing strategy and business development.
Are You Committed to Your Start-up?
Roshan Shah, an international advisor and Co-Founder of Bootup Factory says, "As a founder you must be committed to your business idea and should be sure for its success. However, you need to put in the 100 per cent efforts in your business. Incubators are only helping desks for that start-up that supports those start-ups that have passion for their business idea but lacks funds and technical knowledge." Shah adds, "We at Bootup Factory, are providing business development expertise from our members who are experienced person have founded successful business ventures.
Are You Prepared to Share Your Profit With Incubator?
An incubator offers various programmes and services for assisting your business. They may charge you for the services like office space, labour and networking opportunities. Whereas there are incubators started from government side and often charge very less amount for long-time members. Overall, a start-up should understand the incubators prefer those that have great potential for future success. However, the charges and fee for different service programme varies across incubators.
Do You Need to Research About Incubator?
We see there are a number of incubators for the help of start-ups. Few of them are supported by government bodies and few of them are ventures of industry experts like Roshan Shah. "I finalise Bootup factory incubator because it has local presence with global vision and it is very important point to consider for the start-up like me who have less time to spend on market research. Darji says, "When you are paying for utilising the incubators resources choose that one who offer right set of services for you business growth."
Are You Ready To Get in Return What You Have Given?
Shah share, "Many start-ups come up with impractical approach and join incubators with expectation that it would result growth for their start-up positively. But I tell you that joining of any incubator does not mean that you will be successful." His advice for start-ups is that be realistic and ready to leverage but you have putting in your start-up.
Last but not least, keep in mind that even though you are clear about the above-mentioned points there is no guarantee of success for your start-up. So be prepared for either positive or negative result and just try to take the benefit of the services provided by incubator.