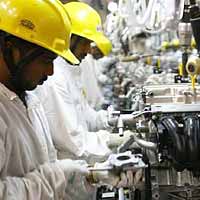 Indian manufacturing Industry is considered as the backbone of the economy of the country and the contribution of the industry to the GDP is around 16 per cent. With the planning commission aiming to revamp the manufacturing output, NMCC forecasts that the number will go up to 25 per cent by 2025. Anil Khaitan, Chairman, Industry Affairs Committee, PHD Chamber, in a seminar on "Enhancing the Indian Manufacturing Competitiveness" elucidates, "In 2013, the productive spending in India has declined to 8 per cent from 9.4 per cent in 2009. The government has only spent Rs 110 per person on productive spending vis-a-vis Rs 1,900 per person on unproductive spending."
What New Government Can Do?
Amid all debates on the present scenario of Indian Manufacturing Industry, one cannot ignore the fact that SME contributes 45 per cent to India's manufacturing output. Ajay Shankar, Member Secretary, NMCC, says, "The NMCC will propose to the new government to set up public funded equity funds to extend and release financial assistance to industry in its mid and smaller segments, since such industries suffer for credit from public and financial institutions."
The present labour and factory laws also barred the small scale manufacturers to grow effortlessly. But with the council's recommendation to reduce Labour and Factory Laws from 44 to just 3, the new government is likely to address their safety and security concerns of labourers.
Shankar emphasises that the new labour laws should facilitate foreign investors to park their surpluses in India with an atmosphere of putting up manufacturing facilities in which the role of government is bare minimum.
Moreover, to safeguard SMEs from hindrances related to unfavourable government policies, the new government should increase their focus on the small scale reservation and SME friendly policies.
Khaitan, who is also the national executive of Micro and Small Industries Cell (BJP), says, "There are some factors that deprived small manufacturers to concentrate on their business and lack of proper infrastructure is one of the crucial factor. The failure of the government to provide the infrastructure holds back the MSME sector to grow. So it is very crucial for SMEs to adopt innovative manufacturing culture and increase their spend on R&D."
Therefore, the council also expressed their concerns over the lack of proper ecosystem for SMEs to put up factory and employ significant number of workers. Therefore, the NMCC demanded the new government to create a sound ecosystem that can be apt for manufacturers to flourish their businesses.