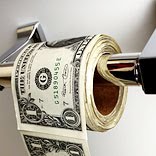 The Indian FMCG sector is the fourth largest in the economy and has a market size of US$13.1 billion. It has been predicted that the FMCG market will reach to US$ 33.4 billion in 2015 from US $ billion 11.6 in 2003. The middle class and the rural segments of the Indian population are the most promising market for FMCG, and give brand makers the opportunity to convert them to branded products. Most of the product categories like jams, toothpaste, skin care, shampoos, etc, in India, have low per capita consumption as well as low penetration level, but the potential for growth is huge.
According to the study conducted by AC Nielsen, 62 of the top 100 brands are owned by MNCs, and the balance by Indian companies. Fifteen companies own these 62 brands, and 27 of these are owned by Hindustan Lever. Pepsi is at number three followed by Thums Up. Britannia takes the fifth place, followed by Colgate (6), Nirma (7), Coca-Cola (8) and Parle (9). These are figures the soft drink and cigarette companies have always shied away from revealing. Personal care, cigarettes, and soft drinks are the three biggest categories in FMCG. Between them, they account for 35 of the top 100 brands.
Conclusion: ITC and HUL performed better than Dabur, Godrej and Marico. Retailers are already witnessing a dip in the margin due to raised input cost. Without a doubt, the consumers and retailers with bear the brunt of the inflation that will be passed on to them by the companies.
( By Aadeetya Sriram and Seema Seth)