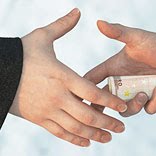 Well, last year, the gossip mill started with Satyam Computers, and then came the biggest event CWG that fuelled a brand new debate on political thieves while we had barely stopped reading about Adarsh Scam. We had not even started to tighten the noose on our bank accounts while reading about the Citibank scam, came Nira Radia scam followed by the recent controversy of 2G. Let's accept it, the recent spate of corruption has tainted India's brand image beyond restoration.
The hullabaloo of 2G
According to a recent report, Indian exchequer has lost anywhere between $22 billion and $45 billion in the 2G Scam - an amount which could have fed every destitute Indian for the next 10 years or opened schools for the under privileged, funded some of the employment programs for at least five years and could have reduced every citizen's tax rate by 15% for a year or so.
The pest called Bribery
Fondly referred as under the table, is a favourite with Indian Babus, can be compared to luck money for any new business, be it while giving an industrial licence or even while issuing an SME loan!
Conclusion: Bribery is one of the most annoying issues for small and medium enterprises (SMEs), who feel powerless in the face of demands for bribes. Since SMEs lack the financial and human resources to counter bribery, they have today, become easy targets for corrupt demands and extortion. Moreover, bribery happens in small amounts and usually goes unnoticed.

Corruption in India has thus not only impacted the competence of public spending and budget revenues, raising budget deficit and thwarting Foreign Direct Investment, but has proved very damaging towards development of Indian SMEs also.

Silver Lining: Anna Hazare, who has staged an indefinite fasting dharna and luckily is also getting tremendous support may stir the corrupt babus a little, but corruption needs more people like him to finally be pushed out of our country.