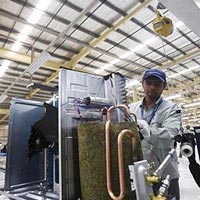 Considering the potential of MSMEs, the Haryana Government has decided to set up Common Facility Centres (CFCs) at various clusters within the state. For the approval of these centres, many sites have been selected and proposed to the central government with all required details. However, the government has already approved five proposed clusters, including Panipat, Sonipat, Karnal and Bahadurgarh for setting up CFCs, whereas four other are in the process and very soon will get the approval. The government is planning to open 31 CFCs at different clusters for helping more and more enterprises in the state.
In 2010, Haryana Industries Department finds that there is rapid slowdown in industrial setup and their extension in the state. In order to counter this crisis of competitiveness, the Directorate of Industries, Haryana, initiated an intensive cluster development programme. The initiative is supported by three pillars of social capital, technology and management. The nucleus of this initiative is conceptualised to be a  CFC. Stating about this, an official says that the maximum admissible cost of each CFC has been worked out at Rs15 crore and the percentage of cost sharing will Union Government (60.71 per cent); SPV (29.35 per cent); and state government 9.94 per cent. This is a joint initiative from Ministry of MSME and the state governments with the general approach to SME development across the country. So to smoothen it's functioning and implementations one official each from the Ministry of MSME and the state government would be represented in the management committee /governing council and any controlling body of Special Purpose Vehicle (SPV to ensure smooth implementation and functioning of CFCs.
Objective of CFCs
The objective of establishing CFCs is to provide different kind of facilities and assistance to the enterprises collectively. These centres would offers infrastructural and skill development support system to cluster members for improving its product quality. They aim to accomplishment of cluster development programmes successfully. Predeep Ojha, Deputy Director MSME - Development Institute, Karnal, shares, "At this platform, entrepreneurs can understand the significance of clusters and its dynamics." These CFCs will provide institutional support mechanism for enterprises and helps in technology upgradation, brand promotion and marketing. Ojha further says, "These centres would be laced with world class machinery and infrastructure facilities that enable its members to use costly machinery and other product up gradation techniques at low cost."
Every CFC would have tool rooms, research labs, design centres, value added facility, skill development centre, R&D centres, incubators, captive units and raw material banks etc. Government intends to commission 50 CFCs by Dec 2015 with Professional Inputs from Grant Thornton. It will be the single largest SME sector intervention by 2015.
Benefits of CFCs
This is the largest individual campaign to wean the industrial units to formal and organised sector. The effort creates win-win scenario for SMEs. On the condition of anonymity, an official from Haryana Directorate of Industries says, "CFCs will pre-requisites the social cohesiveness, and hence ensures the sustainability. They create both physical and virtual platform and provides multiple entries and exits to both development and regulatory agencies. PPP model will ensure their profitability." Highly talented workforce will be appointed at these centres to answers various structural problems related to land, skill and environmental compliances. This will also infuse the concept of responsible manufacturing. The advocacy efforts that will emanate from 50 functional SPVs are likely to provide strong orientation for policy planning and formulation. This approach is considered to be akin to German BMO model. Technology mapping, showcasing, forecasting, induction, etc is likely to improve the quality of production tremendously.
Look Forward
Welcoming the government's move many state enterprises and the Confederation of Indian Industry (CII) members has called it an engine of growth toward strengthening the Haryana's MSMEs. Virender Kumar, Owner, Aneevi Paper Products, says that as cluster member he has many hopes with this programme. He is looking forward for its smooth functioning and hopes that it will widen the scope and facilities to the enterprises like him. Aneevi Paper Products started working in 1993 and is an active member at Karnal cluster. He is engaged in paper products manufacturing and hopes that the CFCs machinery for conversion of paper will make him capable of taking up any assignment of producing paper products of the highest standard. In addition, many other enterprises also hope that these centres will help to increase its net earnings by 50-70 per cent over the time.
Conclusion
In conclusion, the CFCs programme is an essential and much needed step towards strengthening the MSMEs in Haryana. However, for the success of any programme it should be implemented effectively with a combination of infrastructural interventions, capacity building and social capital. Engagement of individual units and suggestions from manufacturers should be considered for building a successful institutional framework for delivering desired results.