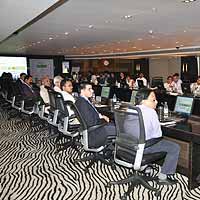 The conference put in perspective the key challenges and opportunities in manufacturing sector and transforming small businesses into big ones in a new competitive landscape.
The hi-powered conference took off with a business leadership keynote delivered by Pravin Herlekar, Chairman and Managing Director, Omkar Speciality Chemicals. He indulged the exclusive gathering in how the industry could relook at itself and enhance immense growth potential.

Indian Scenario
"Chemicals are an inevitable part of our life," said Herlekar adding upon the challenges that the industry is facing today. He said, "There are challenges such as environmental concerns, high cost of capital for new projects, high cost of power, lack of pro-industry reforms and no clarity in federal policies. There are lots of regulatory issues particularly with respect to FDI, low investment in R&D and lack of innovative or cost effective processes for commodity products."

Innovation and sustainable initiatives are expected to be major factors for competitiveness, development of products and processes that eliminate or reduce the use of hazardous substances. This would become the key priority of producers. Companies must adopt forward-and-backward integration in each of its verticals; expand product portfolios for various applications, automation for effective process control and deployment of IT resources, such as ERP for better organisational control, said Herlekar.

The growth and significance of the chemical industry become quite clear from the corresponding figures. Chemical industry constitutes almost 5 per cent of the national GDP, 20 per cent of the national tax revenue, 5.3 per cent of the total exports and 5 per cent of total imports and 10 per cent of the overall industrial index production. "There are three distinct advantages being in India, which are its democracy, its demographics and diversity that include cultural and geographical differences that gives a lot of opportunity. The most important advantage India possesses is of cost, i.e. having low-cost manufacturing and low-cost R&D," said S Ramesh Swaminathan, President-Finance and Planning, Lupin India.

Achieving Operational Excellence
The following session focused on planning growth and operational excellence for fine, custom and specialty chemicals industry. Swaminathan highlighted the need of revisiting and revising supply chain for efficient working of the processes.
"When you service the advanced markets and look at channel partners, you realise that supply chain metrics are extremely important to them. Vertical integration strategies are very useful for the business. One needs to review his/her strategies and tactics frequently," said Swaminathan.

"The opportunities are there in every sphere of the market but it is important for a company to focus on what its strength areas are. If you break down value chain into different components such as API, Bulk and Formulations, you need to reassess your strengths in a particular component. Getting into a herd mentality and doing what others are doing will not take you ahead of others," Swaminathan.

On the other hand, Charu Kapoor, Principal-Chemical Practice, TATA Strategic Management Group, stressed on the need to bring in transparency. "If a company is setting up a small manufacturing unit, it will only set it up if it commercially makes sense. But if the company is doing that at the cost of environment where the cost of statutory norms is not being followed, then it is not good," said Kapoor.


Getting the Right Technology
The concluding session was focused on the nuts and bolts of creating value when process manufacturing companies and technology providers collaborate.

For SMEs, it is crucial to integrate an ERP system to help enable marketing, sales, quality control, products processes, supply lines, and stocks transactions in a single database.

"ERP is not just a system it is an attitude that SMEs want to go ahead with. The ERP is not about the approximation of the information as that will never help SMEs out; it gives you precise information at the right time to grow business," said Karan V Khemka, Director, Robosoft Solutions.

"Clients are not only asking for ERP implementation, but they are expecting us to a provide value addition in their businesses using our consultancy experience." said Khemka.

It is important for small and mid size manufacturers to think out of the box and plan ahead and long term in order to get to the right kind of technology. If they don't have that capability, it is better to collaborate and find partners who can actually give them that access.

"Through Microsoft Dynamics NAV solution offering we enable our Industry partners with simple and easy to use technology platform. Our Industry/vertical focused partners bring in required domain experience and which further helps us in providing localised vertical solutions to the marketplace. The combined force of replicability of Partner Vertical solutions along with ease of use and deployment of our platform helps an SME optimise on cost and maximise on returns for their investments,"
concludes Prateek Mathur, Head Marketing – Microsoft Dynamics.
Four takeaways:
1 The most important advantage India possesses is of cost, i.e. having low-cost manufacturing and low-cost R&D.
2 Frequently reviewing strategies and tactics is a must.
3 ERP gives precise information at the right time to grow business.
4 If SMEs don't have the capability to access technology, then they must find/collaborate with technology partners.