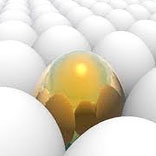 To begin a business and expand its reach in the market, finance is the most ingredients and to generate this fund, venture capital is one of the most popular methods that is slowly and steadily catching up in India.  According to a research firm, Venture Intelligence investments in India has taken a big jump, the total number of investments made through Venture Capital mode of funding in India has gone up from 61 to 77 for the period January – September, 2010 as corresponding to the same period previous year.       
Going by the recent figures provided by Venture Intelligence, there has been a substantial raise of 40.86% in investments made through VC funding and private equity at $394 million from the $233 million for the first half of the calendar year in 2010 in relation to the same period in 2009. For the year 2009, the total investment was $578 million, while in 2005 the amount invested was $229 million through VC pattern of funding, highlights the increasing awareness and presence of VC.
'Venture Capital in India is very limited. Most people in India look towards investing in mature companies as the risk involved is less,' says, Anand Lunia ED & CFO, SeedFund and has led investments in tech, internet, education and retail ventures. There are a lot of companies at the bottom of the pyramid but the investors are less for those companies he further adds.
The concept of venture capital in India is quite new, and primarily individual investors and financial institutions and banks played the role of venture capitalists. Under this mode of fund generation, a venture capitalist funds a company in return of an agreed stake in the concerned company's equity.
Most Attractive sector for Venture Capital funding
According to Venture Intelligence, in India, Venture capital mode of funding is taking place in almost all the sectors of the economy – IT & ITeS, Banking and Financial Services Industry, Health care and Life sciences, Education and Energy.
For instance, in terms of the venture capital and private equity pattern of funding in 2005-06,  the total number of investments made in IT & ITeS was 95 and the total amount invested was $ 535 million, where as in 2007-08 the total number of investments shot up to 169 with the amount invested being $ 949 million.
In the Banking and Financial Services Industry, the total number of venture capital and private equity investments almost tripled from 10 in 2005-06 to 29 in 2007-08 amounting to $35 million and to $146 million in the respective periods.
Over the period between 2005 to 2008, the total number of deals for venture capital and private equity funding across all sectors more than tripled. In 2005, 46 deals for venture capital mode of funding were recorded worth $ 229 million where as in 2008, 169 deals were signed in this segment amounting to a total investment of $888 million.
A lot of venture capitalists are coming here and gradually, the concept of venture capital is gaining a strong foot hold in the country Many companies like make my trip and Just Dial are coming up with IPO's and people are finally getting returns, Mr. Anand Lunia further says.