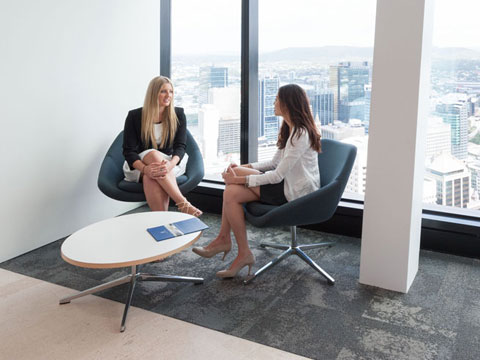 With Mother's Day coming up, there's no better time to recognise both full time and working moms out there. Happy Mother's Day!
Running a business is not simple, nor is running a family. Whilst striking a balance between raising children and pursuing a career remains one of the central challenges facing working women, "Mompreneurs", a term to describe moms who explore the dual role of mom and entrepreneur, has gradually emerged as an amazing phenomenon in small business sector, playing a strong and definitive role in the world of entrepreneurship.
The rise of this emerging trend appears to be driven by Mompreneurs' demand for flexibility, and with this, flexible workplace solutions are increasingly well-positioned to play a key role in supporting the movement for women in the workforce.
Maintaining a work-family balance
Women, leaving the workforce to start a family and opting to start at-home business where they can be both 'mom' and 'CEO' simultaneously, thrive on flexibility which has become an integral part in maintaining a healthy work-family balance. This makes working from a virtual office, which compliments business responsibilities and motherhood, the logical path.
Today, it's a phenomenon that educated and business-orientated women are proving that there is no need to sacrifice family life for a promising career, and businesses are discovering their talent and taking on the new philosophies of the mompreneurs and work–life balance. Flexible workplace solutions are here to do their part, being a driving force behind this movement of women entrepreneurs.
Virtual Office combines People, Place and Technology -- the three key components needed to serve mobile and work-from-home professionals. It uses technologies such as phone management system, email system and video conferencing to conduct daily business activities anytime, anywhere, maximising mobility, flexibility and productivity.
One of the benefits of working from a virtual office is reduced commute times. A mompreneur can work when and where she wants and no long run through all the routines supposed to do such as waking up early, hurrying her kids off to school and getting stuck in traffic jam. With a virtual office which works around a demanding schedule, time can be better spent on her family and energy could be saved from a long commute.
Virtual offices
Virtual office can also serve as a vacation back-up, allowing a mompreneur to have her calls get answered by a virtual receptionist in a professional manner while on vacation with her family. With a professional and personable call answering system in place, important calls can be forwarded to her overseas mobile, and all her voicemails can be sent to her e-mail inbox so that she can keep her business deals moving at night while her kids are fast asleep.
Nevertheless, working from home is not always the ideal option for a mompreneur. When a home office is not fully equipped to operate at full scale or a dedicated, temporary workspace is needed to filter distractions that interrupt work flow, serviced office then comes into play. That is when a flexible workplace, like The Executive Centre's business lounge or hot desks, can offer great benefits to working moms.
Serviced office centres can accommodate such needs by providing private workspace separated from household distractions and fully equipped with office equipment and supplies, as well as meeting rooms which are perfect for formal meeting with current or prospective clients.
Mompreneurs are incredible multitasking professionals. All they need is flexibility. By providing quality, flexible, service-led work environments with all the essentials within reach, whether it is a virtual office, a business lounge, a serviced office or a hot-desk by the hour, the flexible workspace industry is evolving.
Over the next decade, mompreneurs will continue to grow in number as women looking for better career options and work–family balance will increasingly turn to entrepreneurship to fulfil their goals.
The writer of this article is Gigi Liu, Corporate Director – Marketing Communications, The Executive Centre. Liu has over 15 years of experience in corporate branding, marketing, public relations, corporate social responsibility and stakeholder management. The Executive Centre is Asia Pacific's premium serviced office provider providing serviced offices, virtual offices, meeting and conference facilities, and business concierge services to multinational corporations, small- and medium-sized enterprises, and start-ups locally, regionally and internationally. The views expressed here are personal.