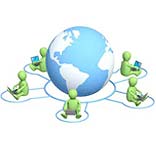 Not long ago, online presence was an after thought. It was also a luxury that only large companies indulged in because it involved hiring programmers, investing in servers and buying computers for your staff. Naturally, only medium to large businesses facing operational and growth management issues invested in IT. Others managed without it or with minimal investment.
But today, any business, including pure brick and mortar ones, small or large, local or global, must think about embracing technology at the very beginning.
Why?
There are many factors for this change. But the top 3 reasons are:
#1: Technology is becoming a significant part of your customers' daily lives. Whether your business sells to end consumer or to a business, most customers today are touched by technology. At the minimum, a cell phone with SMS and voice capability is some thing every customer has today. With over 400 million cell phones and over 50 million and fast growing internet users, businesses will see increasing role of technology in serving their customers.
#2: Technology cost is reducing at a rapid pace. Computers and internet are affordable today than before. Most of the software cost is today cloud based where you pay a subscription cost on monthly basis instead of investing a large amount in upfront infrastructure and software cost. Smarter businesses understand this fundamental change in the ownership cost of technology and leverage it better.
#3: Technology helps you differentiate from others. Use of technology can help your business stand out better from competition and provide greater value to your customers.
But how should entrepreneurs use technology to their advantage? Is there a blueprint or best practice they can adopt?
The answer is Yes.  But before we go into it, there are some caveats that entrepreneurs should be careful about using technology.
Many entrepreneurs either do not understand technology well enough or go over board in their enthusiasm. In both cases, they typically fall into the trap of becoming a slave to it. Even though technology today is easily accessible and affordable it comes with responsibility as well. Businesses should adopt what makes sense for them. Technology should serve your business and customers and not the other way around. But often we see that technology is used for technology sake, overburdening the already stretched resources available to entrepreneurs.
The second mistake many companies do is to use technology to create processes that create bottleneck to execution.  Technology usage has its overheads. There is a learning curve involved for your employees and if you also expect your customers to use your system, you need to pay attention to adoption as well.
The third mistake companies make is to underestimate the cost of ownership of technology. Even though the software and hardware costs are reducing – and many cases come free, the total cost of ownership includes customization, maintenance, support and training – which can add up if you are not careful.
So, let's look at some smart ways of using technology
Use technology to bring more customers
More consumers are going online or using technology in their lives. Establishing an online presence helps you find them whenever they need your service or product. Just a plain website is no longer effective today. You must optimize it for SEO (Search Engine Optimization) to make it discoverable. Apart from this, you may want to consider online marketing to create impact.  
Use technology to serve customers better
Another smart way of using technology to work for you is to use it to serve your customers better. Technology has better capability to provide higher customer service than sales or support rep.  Use it to understand your customer better so you can increase customer value by providing them service they want and value. Customer loyalty programs, engaging with them via newsletters, running email campaigns on your special offers are some ways technology can help increase customer retention and loyalty.
Use technology to grow your business
As you grow your business from local to regional, national and international, technology can help you scale better. A CRM system can help you get visibility into your business so you can plan better and react faster to changes in business environment. A back-office ERP system can help you in fulfillment, streamlining your operations and provide support.
In summary, judicious and smart use of technology can help you derive benefit as well as provide competitive differentiation. However care should be taken to ensure that it is put to right use in building your business and generating tangible value for you and your customers.
About the Author: Bala Girisaballa leads Yahoo! Entrepreneur Network at Yahoo! and is an entrepreneur and mentor for startups and small businesses. He also conducts seminars on entrepreneurship, product innovation and marketing strategy.