With boom in the online shopping, retail e-commerce sales in India have grown tremendously, from $2.3 billion in 2012 to an estimated $17.5 billion, representing an almost eight-fold growth. In 2015, the retail e-commerce sales as a percent of total retail sales in India accounted for 0.9 per cent of all retail sales in India, but this figure is also expected to grow in the near future, reaching 1.4 per cent in 2018.
In this fast paced world, students are burdened with high academic pressure and quick performance. Since parents and children are busy, going out to buy educational supplies seem to be a distraction and frustrating sometimes. Online shopping comes here as a rescue where parents and students can buy the educational supplies they require from the comfort of their homes.
Fastudent.com, India's first online platform for educational supplies is working towards a goal to bring transparency within the education industry and to bring convenience to the consumer fraternity. Use of technology enabled tools and services form the crux of the organisation. In an interview with EducationBiz, Geetanjali Khanna, co-founder, Fastudent tells us how they help educational institutions create their own customised virtual shops. Let's read below to find out more:
Tell us about Fastudent. What is the USP of Fastudent?
Fastudent is India's first B2B2C e-commerce enabler for educational institutes. It's a one stop shop for all the academic needs of the students. Fastudent is a niche platform which services the student community all the way from Play Group to Post Graduation (PG to PG).
USP of the Company
Fastudent partners with educational institutes to help them create their own customised virtual shops - using the exclusive technology platform. These branded e-stores for education institutes are activated in less than 48 hours on the Fastudent proprietary platform.
It also facilitates the academic buying of each student of an institute with pre-populated product catalogue and Predefined vendor tie-ups. This helps to eliminate the hassles every stake holder in the education supply chain goes through. Fastudent is specialised in supplying the complete education bandwidth, right from the Preschool, Schools, (K-12), Colleges and vocational courses.
What led to the inception of Fastudent?
Fastudent is an idea born out of personal experiences. During my student years, I can recollect the panic and the high level of uncertainty all students put in to get hold of any learning supplies. Unbelievably so, I still noticed the same rush that parents and students face, when it comes to meeting their academic needs. From as obvious as getting an authored book of choice, to choosing art supplies- be it testing their skills digitally or even choosing the best suited sports products-it was all happening on a buy-what-you-manage phenomenon.
With Fastudent's proprietary model, we have eliminated the agony of the hunt for supplies. With curated super focused product ranges for each educational institute, we are empowering the student with choices, access and predictability in the supplies domain. Now, the students are doing what's best suited for their time - Study!
How has Fastudent grown from the day of its inception?
Fastudent strives to be a 360 degree digital solution for the students, so that they can have the convenience of accessing their entire academic needs right from their homes without disturbing their study schedules.
Fastudent has reached a consumer base of 1.2 million students and has serviced more than 90,000 orders till date. Servicing an unprecedented range of academic supplies ranging across 32 categories including Books, Stationery, Digital Learning, Branded Merchandise, Augmented Reality, Sports, Uniforms, Shoes and more, the EdTech startup boasts of a focused educational catalogue of 1,00,000 + products, spanning across 500 brands.
Was it self-funded or did you raise funding? Elaborate.
Being first time entrepreneurs, bootstrapping was the way for us for the initial 18 months. In 2015 we raised a round of seed investment from a group of angel investors led by Ashish Gupta, Ex-COO Evalueserve and Founder and Trustee at Ashoka University. The first round of the funding was used for team expansion and strengthening the DIY eCommerce technology platform. At that time, Fastudent offered close to 20,000 SKUs across 8 categories viz. Books, Stationery, Academic Accessories, Games, Sports and Digital products. With the new fund injection we extended our categories with a focus to fill in the void of learning supplies in the Indian e-Commerce Market. We went on to grow from a 5 member team to a 40 member team in this period of 6 months.
Highlight the challenges faced by the brand. How did Fastudent tackle them?
The initial challenges was to maintain the continuum between various aspects of business like supply chain management, product development and customer experience. The encouraging words from our satisfied customers and the inputs from the not so satisfied ones were initial steps to tackle the challenges and motivated us to work passionately.
Many educational institutions are benefitting from expansion via franchising? What is your opinion on franchising?
As long as the model is well laid out and the implementation at various geographies is mapped out, franchising is an absolute winner. Education has seen the success of franchising models in its domain repeatedly.
Highlight your expansion plans. Will Fastudent adopt the route of expansion via franchising?
With the raise funds, Fastudent will be on-board 1000 campuses in Delhi-NCR before venturing into Bangalore, Pune and Mumbai by January 2017. The model has been successfully accepted by NCR schools beyond our expectations. We will be capturing the rest of the private schools to help them sort their educational supplies needs. Beyond feet on street, we will be hiring extensively for technology as well as School account management, effectively totaling to a team of 90 members. The growth in categories will continue as we will be bringing over 1 million education SKUs to our platform over the next few months.
How do you plan to raise finances further for expansion?
We are inching closer to Series A and will be closing the next round in a couple of months.
Share some details about your tie-ups with educational institutions in India.
Fastudent has partnered with more than 200 education institutes across Delhi/NCR to help them create their own customised virtual shops - using the Fastudent exclusive technology platform. We are the only company to offer marquee names like Ramagya , Kidzee , Bharat Ram Global and many more , an opportunity to 'OWN' their stores online.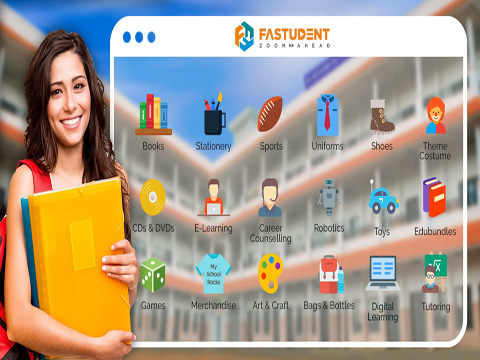 What has been your ROI and CAGR since inception.
We have been growing 100 per cent m-o-m since inception.
Where do you see India's education sector in the next 5 years? Where do you see Fastudent in the next 5 years?
The education sector in India is poised to witness major growth in the years to come. Indian education sector has been on the center stage from past few months. Various government initiatives are being adopted to boost the growth of distance education market, besides focusing on new education techniques, such as E-learning and M-learning.
We intend to take this model global and introduce the simplification of education supplies procurement to more continents. Five years from now, we intend to bring in unprecedented range of educational catalogue and reach for our consumers.
Since there is a tremendous growth to be seen in the education sector and online shopping, getting all the educational supplies requirements fulfilled in one click adds to the convenience. Good logistics and electronic fund transfer only adds to the enlightened online experience of consumers.