According to a report by GSV advisors, the global tutoring and counseling market is worth $54 billion, and is expected to rise to $100 billion by 2017.
The Indian education market is estimated to be worth Rs 9 trillion. The current size of private coaching in India is about $23.7 billion and is likely to go beyond $40 billion in 2016, says Assocham. With nearly half the population of India below the age of 25 years and increasing penetration of Internet and mobile devices in this demographic, the growth of online education in India is undeniable.
Sensing a market opportunity, Brainnr, a firm that specialises in online education, providing online tutoring solutions since 2015, is trying to make inroads into the Indian education market.
About Brainnr
Brainnr aims toblend elements of online tutoring, practice materials and interactive academic games to make learning digital and engaging in a brand new style. "We are embracing the concept of the digital educational ecosystem," says Philip F.Sparks, Chief Product Officer and Co-Founder, Brainnr in an interview with EducationBiz. Sharing its inception, he explained how while studying in Bryant University, he desperately needed a tutor to solve his specific doubts prior to the statistics exam. "Khan Academy and other video tutorials did not do that for me. I resolved to calling up my Indian tutor who taught me over Skype. The session was pathetic. He kept having to raise his piece of paper near the webcam. I then realised that there has to be an easy solution for the aforementioned problem. So we decided to build Brainnr, a self funded company, to expand the reach of good Indian tutors world-wide," he adds.
Challenges encountered
Digital/Online education is a crowded space. One key element is differentiation not only in product or service, but in the business model as well. While some tutoring companies have seen a great deal of success, Brainnr saw problems with the popular marketplace model. Sparks says, "We first took away the marketplace and included more structure and regulation - in order to ensure quality and enable every tutor a fair and equal chance at getting a student - instead of just the one who has been on the platform the longest." Brainnr plans to capitalise on technological growth to provide a platform where anyone, anytime, anywhere, can achieve their education - at affordable rates and indisputable quality.
Expansion Plans
Brainnr plans to go for a full-fledged expansion in India first, especially considering the low cost and high quality of Indian tutors. Utilising a cost arbitrage strategy they plan to market top Indian tutors, complete with the ecosystem of features, to countries like the United States and the UK.
Views on technology and e-learning in India
Technology is essential to education. At one point in time, a chalkboard and a piece of chalk were technological advancements used for education. Now, it's the Internet and software. The future of the world lies in EdTech, and India is no exception. Sparks adds, "We should get ahead of the curb."
The e-learning industry in India is fairly crowded. According to a report, e-learning market is valued globally at $50 billion. The number of people accepting the idea of learning online is growing rapidly in India. Brainnr is involved in a lot of research and looked at a lot of different countries, and in India people are very open to the concept.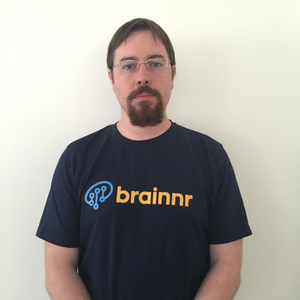 The future
With the slogan "Teach the World", Brainnr focuses very heavily on the online tutoring sector in India. According to Sparks, "India is in this incredible position to achieve global success through e-learning. There is so much incredible innovation happening here in India that I believe we will lead the world as the standard setter for e-learning. I see Brainnr leading the charge."
With the increasing culture of both parents working, Indian tutoring industry is set to grow manifold in the years to come. As millions of students are making their way through strained school systems, the demand for individualised instruction is expected to increase in the foreseeable future. Educators, agents and service providers should consider how they are prepared to service that demand in the years to come.