A B-School means business! And when it's an MBA Executive course, the responsibility of B-Schools goes one notch up in adding value to the already-gained experience by executive students. This is what Samvaad 2016 aimed at doing. Organised by one of the top 10 B-Schools of India, Management Development Institute (MDI), Gurgaon, Samvaad brought together industry leaders on one platform for a dialogue with the executive students of National Management Programme on Saturday, October 1, 2016. The industry leaders spoke on leadership, entrepreneurship, innovation and more with the central theme being 'Success through Synergy'.
The event began with the lamp-lighting ceremony, which was followed by a welcome address by Professor JK Jain, Chairperson, NMP and Professor CP Shrimali, Acting Director, MDI. This was followed by the first session 'India on the rise: Purpose Passion and Leadership/Path to Synergy'. Sanjiv Navangul, MD, Janssen India, spoke about how leadership is not just about leading, but much beyond that. "An important aspect of leadership is to give one's followers a cause that drives them to perform," he said. He also advised, "Translate as leaders into something that's worthwhile." He also spoke about the healthcare sector of the country and how it needed better public-private synergy to grow.
Next was an insightful address by Kashinath Jha, Joint Secretary, Department of Telecom, who took the students through the growth of telecom and communication in the country and how India's post offices are becoming banking destinations.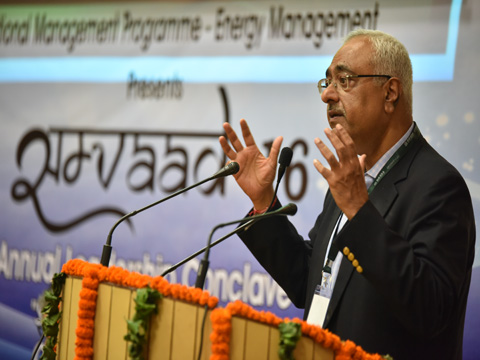 The second session, 'Redefining status quo: The importance of synergy during transformational change', had eminent speakers like PV Vaidyalingam, Advisor (Fin), Ministry of Railways, Bharat Salhotra, MD, Alstom India Transport, Sanjay Kumar Singh, Director (Commercial), UPPCL and Amit Agnihotri, Founder, MBAUniverse.com. The session began with a dynamic speech by Vaidyalingam on how the Indian Railways essentially is one of the biggest examples of how synergy brings about transformation. "Synergy is the need of the hour," he said while speaking about the present and future of railways in the country. Bharat Salhotra spoke on the importance of dissent in an organisation. "We need organisations to move away from being mono-minded to being multi-minded. There has to be dissent," he said. Amit Agnihotri, who himself is an MDI alumnus, spoke about how his passion has made him what he is today. "If you pursue your passion, success is a byproduct," he said.
The next session, 'Defying gravity: Emerging trends', was a supercharged one as speakers spoke about what it takes to be an entrepreneur in the current market scenario. Manoj Chugh, President (Enterprise Business), Tech Mahindra, started off with some amazing examples of how IT is changing our world in a way that even a car may end up telling people where you were while driving it. He also spoke about a humanoid created by a multi-skilled person, stressing on the fact that, "The future is not about degrees, but about multiple skills." Following him was Sanjay Mehta, MD & CEO, Teleperformance India, who spoke about the need for an entrepreneur for putting their employees before anything or anyone. "While the customer comes first, your employee should be your first customer," he said.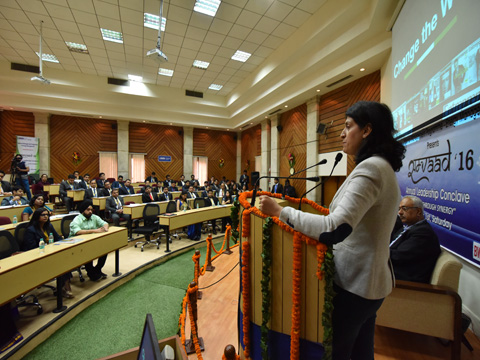 Ritu Marya, Editor-in-Chief, Franchise India, warned students about the dos and don'ts of being an entrepreneur. While she spoke about the beauty as well as the harsh realities of entrepreneurship, she also made the students aware of the markets that open a huge scope of opportunities for those who are looking at coming up with a startup. Concluding the session was Gagan Arora, co-founder, PrintVenue and now CMO, Food Panda, who spoke about his entrepreneurial journey and the mistakes that he learned from.
The final session was about 'Creating Connections, Building Bridges: HR as Change Catalyst'. The line-up of speakers for this session included Suresh Bose, Head Group HR, Vedanta Resources Plc, Sushil Baveja, President & Head Corporate HR, DCM Shriram, Sameer Khanna, VP and Head HR, Ericsson India, YV Verma, Management Consultant and Anil Mohanty, HR Head North, Relaince Jio. The HR heads shared insights of what drives organizations and how HR policies define the fate of organisations. YV Verma spoke about how a connect between the directors and HR heads of organisations is important. Speaking about disruption, Suresh Bose said, "Disruptive innovation has the potential to drive an organisation's balance sheet."
The event concluded with a vote of thanks by Prof JK Jain. Each of the sessions was followed by a Question and Answer session between the students and speakers, thereby, opening a platform for active interaction between industry gurus and aspiring executives. Events like Samvaad are important for B-Schools as they expose the aspiring leaders of tomorrow to the established leaders of today. "For corporate, such an event is an opportunity to explain what a corporate is all about and its mission. Students get an opportunity to understand corporate better and ultimately, because of the interaction, somehow we find great talent at times, which we pursue and incorporate. Ultimately, we are always a market for having better talent," Sanjiv Navangul of Janssen India told EducationBiz.
For the students who organised the event, it wasn't just an experience, but also a lot of learning, insight and connections. "It was a superb, holistic experience right from inception, inviting speakers, organising the event, to its successful execution, which brings in a lot of perspiration and dedication from the whole team. Samvaad brings a platform to interact with business leaders, have a dialogue with them and have a better perspective about the industry. Samvaad actually creates an opportunity us to learn about the real world issues of the industry and how effectively and efficiently they come up against these odds to emerge as a market leader," said Mukul Malik who was spearheading the organising committee of the event.
Such events also imply how Management education is not just about classroom teaching, but much beyond that. As Professor Shrimali puts it, "We are not in the business of teaching, we are in the business of creating a learning environment."