India's online Education market is set to grow USD 1.96 billion and around 9.6 million users by 2021 from USD 247 million and around 1.6 million users in 2016. More than 370 million users are on internet in India helping online education to grow at a fast pace. E-learning market in India is estimated at more than 3 billion at present.
Scenario of the Online Education Market in India
The Online Education market in India currently stands at 247 million and is estimated to witness an 8* growth over the next 5 years to reach the USD 1.96 billion mark in 2021.This growth will be backed by a phenomenal rise in the paid user base for online Education in India, which is expected to grow from the current base of 1.57 million users to 9.5 million users in 2021 at a CAGR of 44%. The growth of Online Education in India will be driven by a combination of demand, supply and macroeconomic drivers.
With the introduction of many conductive government policies, the market for online education in India has a positive outlook until the end of the forecast period. In a bid to extensively incorporate digital literacy in India, the government is making policies related to technology adoption and online education delivery infrastructure. The Digital India Initiative is one of the key initiatives with a long-term vision to provide quality and technologically aided education.
Key Categories of Online Education
Primary and Secondary Supplemental Examination
Driven by the demand for quality Education.
Supplement to school learning for students enrolled in primary and secondary classes in school.
The online channel provides a conducive educational avenue for these students who require focused, individual learning.
Higher Education
Provide an alternative to traditional higher education courses.
Currently restricted by lack of clarity on regulations.
A strong regulatory framework can work as the substitute to distance learning programs.
Test Preparation
Online examinations aimed at coaching students in preparation for competitive examinations.
Witnesses reasonable adoption from target students largely from tier 2 and tier 3 cities.
Reskilling and Online Certification Market
Courses designed to assist users in skill enhancement, which may result in certifications.
It is the largest category in the Indian Online Education Industry.
Preference towards online trainings for skill developments.
Language and Casual Learning
Learning of non academic subjects such as spoken English and playing guitar.
High user base, but with low paying subscriber base.
B2C revenue is limited.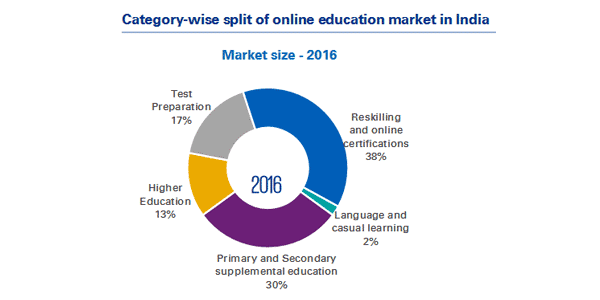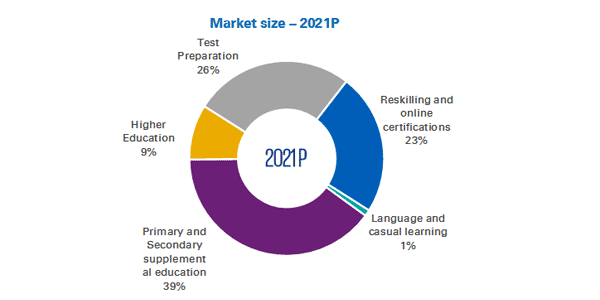 Source: KPMG Report, Online Education in India: 2021
Growth of Online education
Online education provides a low cost alternative
Lower infrastructure cost and a larger student base helps leverage on the economies of scale and hence reduced prices via the online channel
175 per cent increase in cost of education from 2008 to 2014
Online skill enhancement courses are around 53 per cent cheaper than offline alternative.
Online channel provides quality education to potential students
Open courses and distance learning enrolments in India to rise to around 10 million in 2021 growing at a CAGR of around ten per cent.
Areas where availability of quality offline education is low witness higher adoption of non-traditional education methods. For example, states like Kerala, Bihar and Jammu and Kashmir account for ~ 4 Lakh distance learning enrolments
Stark difference in educational qualification between urban and rural Indian population
Growing job seeking population drives the demand for industry relevant training
280 million job seekers expected to enter the job market by 2050.
Unemployment rate in India at a five year high of around five per cent in 2016
Annual growth rate in availability of jobs at around two per cent per annum
Government initiatives to drive adoption of online education
Government initiatives such as SWAYAM, E-Basta, Rashtriya Madhyamik Shiksha Abhiyan(RMSA),Skill India and Digital India will enable the infrastructure needed by students to study online
Internet penetration witnessing exponential growth across India
Around 31 per cent internet penetration with about 409 million internet users today.
Increasing penetration in semi-urban and rural areas provide high potential for growth.
Nearly 735 million projected users by 2021
Internet penetration will enable reach and increased traffic for the online education players.
Growing smartphone penetration across India to drive technological adoption amongst masses
Nearly 290 million smartphone users in India today
Smartphone user base expected to grow with the addition of approximately 180 million new users by 2021.
Significant increase in disposable personal income
Disposable income of the country is expected to grow by 55 per cent by 2020.
India will keep its current rank as the world's second largest middle class till 2030
Large faction of Indian population is young, thus enlarging the target population for online education
Nearly 46 per cent of population between 15-40 age group
Young population with high aspirations but lower income is a good target market for online education
Further, the acceptability of online channel is also higher in the younger demographic
Beas Dev Ralhan, CEO & Co-founder, Next Education India Pvt. Ltd quoted "According to a report by Global Market Insights, the global e-learning market was valued at over USD 165 million in 2015 and is expected to grow at over 5% from 2016 to 2023, exceeding USD 240 million. The statistics clearly indicate the growth that this sector has been experiencing, and this trend is expected to continue. Interestingly, the report also forecasts that the e-learning market in the Asia Pacific region and particularly in India is poised to exhibit the highest growth within this period."
Conclusion
Online education played an important role in developing Indian education industry overall in terms of money as well as innovation. Most of the population are on internet and learn everyday something from it. Online education provides the medium for students to develop skills just by sitting home at free of cost. Innovators and investors kept on looking for better opportunities in online education as it is a growing industry and have scope of improvement in India.