With the bold move of demonetisation settling in, the loss or gain that will be experienced by the Indian economy in the long run is yet to be judged. While some expect there are better chances of cleaning out the cycle of black money and corruption, others are not as much in its favour. While umpteen sectors have been hit hard owing to their reliance on cash transactions, there are a couple who have witnessed a massive boost in their business. One of them is Ed-tech firms, who have discovered a considerable rise in their enrollments, post demonetisation. These firms today are the next step in education, and are becoming one of the most popular and fastest modes of learning amongst the masses.
Until recently, there was a major digital disconnect, as most of us preferred hard cash for transactions, but owing to the demonetised effect, a number of mobile wallets have popped up making online payment mediums a breeze. This has led to a minimal, rather limited effect of demonetisation on the education technology industry. The EdTech firms believe that because of their large ticket size and an already inculcated habit of online payments, multiple existing users and potential users are unencumbered by demonetisation.
Reasonable high-speed Internet and affordable online teaching resources available to people regardless of where they live is making this medium a hit with the masses. Access to digital tools like apps, tablets, laptops, has transformed a learner's communication process. This is owing to the fact that the online space is now not just one of the most cost-effective ways to educate, but also an apt platform to deliver a world-class learning experience to the ever expanding workforce. Individuals are embracing EdTech for its convenience and effectiveness.
The EdTech industry is thriving and they are rapidly building tools that reflect the country's changing learner needs, work styles and payment modes. They have also realised that individuals (Parents, students) today would leave no stone unturned in giving and receiving the best of the best when it comes to education. These individuals believe in quality education and would manage anything to ensure that. With education being a must, they will make sure it is not hampered at any price, not even demonetisation. This is currently being reflected in the EdTech business as it is strong and steady irrespective of the existing chaos in the economy. A large part of the target audience for EdTech firms are people who are well versed with the digital world and are very comfortable with the concept of cashless transactions and hence, the effect of demonetisation has been minimal.
With the cost of private education skyrocketing, online courses are a fraction of the price. Individuals are no longer relating a high price to better quality. They have realised that online courses save them the cost of logistics, living and much more. Therefore, demonetisation has barely had an impact on this industry. While people have their eyes set on India and witness a major revamp of its economy, the EdTech industry is a channel.
About the author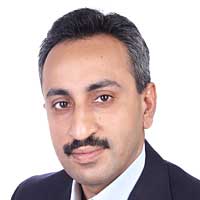 Aditya Malik is the CEO of Talentedge.