We are living in an age of unprecedented transformation – one that has seen path-breaking innovations and sky-rocketing consumer expectations. This has reshaped how service delivery mechanism was dependent on technology and has forced the service provider to redraw their age-old models. However, despite the dire requirements, technological innovations in India remain largely inefficient and fragmented. The scope for the commencement of utilization and development of these innovations is even more confusing. One area that stands out with respect to the tested success of technological innovations is skill development and training of manpower. Various countries have entirely overhauled their training facilities from person-to-person mechanism to a highly productive cost-effective system where technologies like Artificial Intelligence, Virtual Reality (VR) & Augmented Reality (AR), as well as online learning, drive the process of skilling & learning.  
There are various types of aspirational groups in India who require skilling –school students, university students, school and university dropouts, graduates, professionals, etc. A single solution is not possible for all the skill-aspiring groups, but certain solutions have the potential to be modified as per the requirements of all these groups. 
Artificial Intelligence (AI)
AI is an emerging technology that has the largest potential when it comes to educating and skilling. Essentially, it will automate a lot of things in skills training programs. It can observe patterns with which the student is learning, and based on those observations deduce if a student has understood a certain concept. In a classroom, a physical teacher teaches with certain pedagogy and at a certain pace; AI will ensure customized and individualized learning and pace of learning.
This is beneficial in both kinds of skills – soft skills and hard/technical skills. For example, AI can provide customized soft skills like banking courses to candidates based on their understanding, pace and loopholes. On the other hand in case of hard skills like welding, AI can enable stimulators to look and observe the hand movements of the candidate while he is welding. These stimulators in-turn communicate to AI about the candidate's practice and his/her scope of improvements.
Moreover, AI also provides candidates with the freedom to indulge further in a skill; beyond his/her course curriculum. So that way, even in a classroom of 20, individuals can specialize further in a particular skill, which would have otherwise been impossible in a group-teaching environment. Also, with AI, the assessment of trainees can be simultaneously observed throughout the course of training, without being fully dependent on final tests.
Augmented Reality (AR) and Virtual Reality (VR)
AR and VR are hugely successful platforms for imparting skills that require an exorbitant amount of means and money. For example, if one wants to train people on heavy machinery, he/she will have to rent it at extremely high rentals. With VR enabled stimulators, people can learn such skills and establish training facilities for them at nominal costs. Once a candidate earns basic level skills on the VR platform, he/she can excel them further at the actual machinery. This drastically reduces not only the costs of training but also the risks attached to it.
Today, most of the underwater welders in India come from Mexico; that is because they are aptly trained in artificially-created training environments. These welders come with a hefty price tag to the Indian industries. If we are able to train local people to weld underwater, with the help of VR, there are going to be a lot of homegrown underwater welders. In short, VR and AR hold the power to replicate a full-fledged work scenario within the training centre, and that is a very beneficial situation for both the industries and the workers.
Online Learning and the Internet
Massive Open Online Courses (MOOCs) are free online courses available for anyone to enroll. MOOCs provide an affordable and flexible way to learn new skills anytime anywhere, just by going online on a MOOC platform. MOOCs are the way forward; online availability of gainful skills, that too free of cost, is definitely going to enhance the pace of skilling our workforce.
Conclusion
Emerging technologies are gaining space in our existing skilling infrastructure at an impressive pace. Even in India, several such technologies are already in their pilot stages; VR is being used to train candidates on the usage of heavy machinery. Other examples include the use of VR to train aspiring pilots in the aviation industry.Earlier pilots were trained on lighter aircraft and then shifted to heavier airplanes. As the aviation industry is highly critical, they were the first ones to efficiently adopt AR-VR in their skilling process. Given the costs incurred in establishing such training set-ups, other industries are not so open about this idea presently.That's where we should expect the Government to intervene and create establishments where learning of the smallest of soft and hard skills takes place on the basis of futuristic learning technology. With the Government's emphasis on Skill India Mission, we can expect these plans to gain more traction. If an establishment of such a tech-based learning ecosystem is realized, with its full potential, we'll have no dearth of high quality, an aptly-trained workforce that will be able to drive India's economy towards the right direction.
Therefore, it is safe to conclude that emerging technology and its implementation in India's skilling ecosystem will be phenomenally beneficial for the country's workforce as well as its industry. It has the ability to make India the international powerhouse of a competent human resource.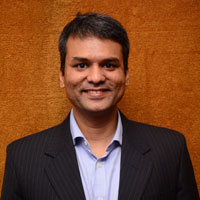 The article has been authored by Mr. Abhishek Pandit, Director, AISECT