Building a product because you can't find it somewhere else may be the biggest cliché, but sometimes it's the appropriate approach to create a new market space. Mudit, one of the founders of Qriyo was once looking for Yoga courses to take. However, he didn't want what most of the regular yoga instructors offer or most of us do. Thus, he explored an online medium in search of exclusivity. But once again, the guy was left with dozens of contact numbers, out of which, some didn't turn up while others were not worth investing time and money on.
Evidently, the existing market gap was strong enough to encourage Mudit and his co-partner Rishabh Jain to fill it with a brilliant idea, which gave birth to QRIYO.
"We launched Qriyo to fill a gap that demands to be filled. How to find a teacher who can teach? A listing site? Finding a quality and trusted teacher on those sites fall down to luck. You get a dozen of numbers. You call and verify. Someone will not be able to come at your home, someone will ask too much money and how can you agree on that without even knowing about the teacher; the trust factor. With us, you get a chance to know the teacher with a demo," explained Jain.
Furthermore, in a span of one year, the duo not only turned their brilliant idea into a venture, but also bagged adequate funds and support from investors. Here is what you can learn from them. Edited excerpt:
What are the key differentiating points of your venture that makes it better from the existing or prospective competitors in the market?
What differentiates us from most of the other service providers is the way we evaluate and bring teachers onboard and how we use this data to find the perfect match for a customer query.
We keep a list of teachers in our database. Before putting them in our database, we do their thorough evaluation. We note their location, experience, salary expectation once they pass the evaluation. A learner can book a course with us via phone or using our website. We ask the customer about their requirement, location etc. As soon as we get a request we start doing matchmaking based on several parameters and find out a list of suitable teachers. Then we select the best teacher from the list. The matchmaking is performed by an algorithm we have built. The selected teacher is sent for a demo and if the learner likes the demo, we start the course or else we send another teacher from the list. The teacher goes to the home at a time that the learner prefers.
Necessity is the mother of invention. We launched Qriyo to provide quality learning which is flexible and is based on trust. Tackling unemployability problem and promoting offline freelancing and giving a launch pad for talent to show itself are the other and even turn it into a career opportunity.
The biggest Competition comes from the local offline coaching and tuitions. They are large in quantity. Our biggest competitors are not using technology that we are using. They are neither using data nor feedback the way we use it. We also have started automating a lot of things which will further improve our performance and diminish the human errors. What we provide is one to one personalised training by well-matched teachers which certainly is better than 1:40 ratio performance of other classes. Our quality, trust, and flexibility create word of mouth publicity for us which is helping and will help us immensely in getting ahead of the competition.
We keep a tab on our competitors. But we are more worried about what we should do and what we are doing rather than focusing on defeating competitors. We are in a race with ourselves. Startups don't win by attacking. They win by transcending.
Is it a boot-strapped venture or you raised funds? Share the funding saga of the startup.
Qriyo was launched in August 2015. Initial investment was the co-founders contribution. Around January 2016 Idein Ventures invested in Qriyo. Ashwin Srivastava from Idein Ventures was senior of Mudit and Rishabh in IIT Bombay. Ashwin himself had founded two EduTech startups FindURClassand Plancess. With Idein Ventures came experience, business sense, smart brains in addition to capital. We were lucky to have acquired the faith of Idein Ventures at the very start of our journey.
Do the investors offer you other resources required to set up a venture? Do they hold any percentage of stakes in your venture?
Idein Ventures are a constant guide for us. We used their experience, business sense, smartness to build and set up our venture. We are extremely sorry that we can only answer with yes about percentage of Idein stake in our venture.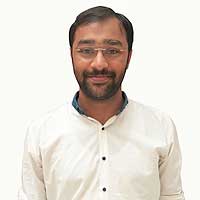 What kind of market gap your venture will fill?
Everyone wants quality education and when we can't find we get content with whatever we get our hands on. Our teachers are evaluated. We do the evaluation for you. Only the teachers who pass evaluation get on board with us. Thus with us, you get the quality. You will be paying money but you have to take time when they want you to; the inflexibility. Our teachers come to your home at a time and day you want.
How old is the venture and in which city you have a strong market presence?
Qriyo is a year-old startup established in August, 2015. We have a strong presence in two cities, we currently physically operate in: Jaipur and Jodhpur. We have expanded to Mumbai and Delhi but only digitally.
How have you detailed your customers? On what grounds, have you determined target audience?
We believe Qriyo is for all of us. We provide learning based services. Do you want to learn cooking? You may not want to learn to cook today. But there are thousands of others who live out of their home cities and would want to learn to cook. Maybe you want to learn guitar? Maybe Physics?. We have more than 400 courses and when you browse our website, you will surely come across something that you yourself want to or wanted to learn. Our target is everyone.
At Qriyo, we believe that Qriyo is for the whole family. And what is the world comprised of? Mostly families. So, Qriyo is for everyone. Life is about learning. We constantly need to learn to survive. Where there is learning there will be Qriyo.
Elaborate on your pricing strategy and how you are planning to improve it in a bid to improve growth and profit margin?
Our Pricing strategy is not absolute. You can say our business model is similar to Amazon seller. You go to Amazon and list your products at amazon.com, where your customer sees it and buys it. For this, you give a percentage of your profit. Because Amazon themselves have to pay for technology which is very expensive. We work on a revenue sharing model. To improve growth we are focusing on getting more customers.
Now, our model will work almost everywhere because it is a flexible model. Our rate changes according to places. For achieving this flexibility, we do thorough research before entering a new market.
Are you in the process of scaling your venture? Which are the areas you are focusing on for technical upgradation?
Yes, we have to scale up to serve the demands of our increasing customer base. We are looking to automate every manual process we can. The sector we are operating in is very human-intensive. Automation will help us to do more with less manpower.
What is the biggest challenge you're facing in scaling the venture? How did you overcome this challenge? What kind of promotional and marketing strategies you've made?
When you start out and are not a household name, it takes time to build the trust factor and sales. Building up something is always a challenge. The good part is we are going upward every day. Earlier people didn't even recognise us, now they do. After a few days, they will know us better.
A lot of our customer contacts are not tech savvy and they contact us via phone. We want our payments to happen online. But again a large number of our customers are not comfortable with the internet. We educate our customers and teach them how to pay online. Sometimes we offer some discount if the customer books and pays online.
We are following an iterative approach where we build, test and rebuild. This way we know what works and what does not.
We employ Guerrilla marketing via our Facebook page. We also do a lot of offline events around yoga, music. We are mostly relying on the word of mouth for customer acquisition.
How aggressively are you planning to spread your market presence in the current fiscal? By 2020, how much market presence do you aim and in which all cities?
As already stated we follow a model similar to Amazon seller: a service which allows anyone to list and sell their products on Amazon network.
We don't want to scale too fast too early. We want to scale with the flow. A controlled scale is what we are looking at it. Go to a market, provide best services, gradually win the market with our service and then expand is our strategy.