Virtual reality (VR), augmented reality (AR), and gamification are definitely the future as they are being increasingly used in most fields like education, medicine, entertainment, hospitality, tourism, or architecture. Storytelling through VR and AR has changed the way visual content is consumed. These technologies spike a sense of presence and awareness in audiences, besides engaging them in the activities.
VR and AR have been one of the biggest technology trends in recent years and India is poised to be a key market with its huge smart-phone base of 160 million plus users and counting. Given the Indian governments' increased focus on its 'Digital India Campaign', it is extremely important that education as a sector maximises its potential to reach out to a large number of students through innovative technologies.
Experts say that around 90% of what humans see (visual content) and do is retained, an integral aspect missing from our current education system. VR and AR are the next big steps in education – good both for educators and students alike.While getting the students actively involved in the classroom, educators would be able to capture the attention of their students like never before by using AR and VR-based pedagogies. Besides making learning more exciting and interesting for the students, such pedagogies would help in retention of knowledge and their application.
Schools in India are slowly realising the importance of AR and VR and this would significantly transform education methodology. In a recent workshop at St. Xavier's School, Jaipur where students were taught about the solar system through VR found the learning experience very exciting and fun filled -an experience very different from how they learned about the solar system through text books. In this workshop, students boarded a space ship and visited planets of solar system one by one, followed by information and trivia on the solar system. Students find such learning processes very informative and like the fun element involved in the whole process. Teachers find it beneficial for studies in fields of physics, genetics, molecular biology, medical science and information technology. .
Moreover, It is easier for the teachers to explain a complex topic in a simplified way to the entire classroom in one go, interact with individual students, increase interactivity among the students, and objectively assess the progress of a student. An image included in the course books could be scanned by using a tablet or smartphone to show a real life replica. For example, an image of a Dinosaur, an animal long extinct if scanned using VR, could be learned about in a much better way in comparison to the two dimensional picture and text mentioned in the course books. A child can not only visualise how a real Dinosaur looked like, but also can interact with the creature by seeing (and hearing) it when it is angry, sitting, running or idle, also exploring the facts alongside. Imagine gazing at historical monuments like India Gate or the Taj Mahal at night or seeing how they look like from the top –may never be possible in real life, without even visiting the location of the monument. A window to the future of better education, it would not be long that every standard classroom would be equipped with a VR or AR technology. With such learning, teachers enable students to unlock their imaginations and enjoy learning.
Think of a digital environment where there are balloons with different patterns in the sky. A child is asked to burst the balloons with red triangles by gazing at them. This is a simple VR journey that helps to build colour identification and symbol recognition skills in pre-primary learners. Imagine walking around an ancient tomb during a History lesson, swimming with the aquatic animals in the Geography period, or feeling the heat while learning about deserts - simply experience it all as if it were things for real. And that is VR, the technology that is supposed to change the way humans interact with computers and experience the world. Content developers focus on creating immersive content and weave new visual content into the story.
Some other highlights of technology in education could be that the students can connect with their teachers from anywhere, making education accessible on a global level. Diversity in content can bring out the true potential of the range of things that could be achieved. For certain topics or subjects, some AR/VR-based applications have options for the students to answer questions by typing into their laptop or tablets. While the students and the teacher would be able to see the same things or be in a same session, the teacher can highlight or lecture on chosen things more relevant to the lesson. Most importantly, the costly expedition trips to a place or museum or a difficult terrain could be easily conducted by using these technologies. Additionally, students and teachers can create a blended learning environment, where they could upload their works and explore the activities undertaken by others in the class and meet virtually, making collaborations possible at any time and from any location.
With significant development in infrastructure like network strength and increased usage of smart-phones or tablets for learning and teaching purposes in schools, and availability of VR and AR supportive content, the market is on upswing. The technology is still evolving and a continuous research ecosystem is required to bring additional innovation in the space.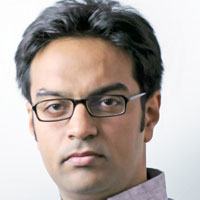 This article has been authored by Yuvraj Krishan Sharma, Co- Founder, KOMPANIONS